PUNJAB

HARYANA

JAMMU & KASHMIR

HIMACHAL

REGIONAL BRIEFS

NATION

OPINIONS

MAILBAG

BUSINESS

SPORTS

WORLD

ADVERTISEMENT
Wednesday, April 18, 2007, Chandigarh, India
Updated at 3:00 am (IST)

India loses Asiad bid
Victory for Aiyar: Kalmadi
Kuwait, April 17
India today failed in its bid to host the 2014 Asian Games at Delhi after which the Indian Olympic Association openly blamed Union Minister Mani Shankar Aiyar's recent comments for it.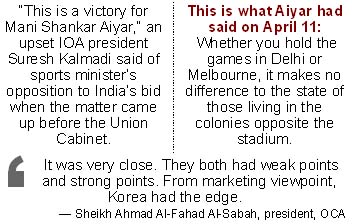 CAST YOUR VOTE
Is jeering Sachin and Zaheer wrong?


CHANDIGARH

LUDHIANA

JALANDHAR
New

DELHI

HIMACHAL PLUS
New

AMRITSAR PLUS

LIFESTYLE
New

BRIDES WANTED

GROOMS WANTED

OTHERS

HOW TO PLACE ADVTS
In Health & Fitness today
In Jobs & Careers today
Indian prof among Virginia Tech victims
A professor of Indian origin is among the 33 persons killed when a student opened fire in Virginia Tech University, Blacksburg, on Monday morning.

In video (56k)


World page: The Virginia Tech killer was a student

Editorial: Killings on campus




Student was the gunman:

Members of Virginia Tech's Corp of Cadets pray in the War memorial Chapel hours after a gunman shot dead 33 persons in a shooting spree at the university in Blacksburg, Virginia, on Monday. Virginia Tech's president said that a student was the gunman in at least the second of the two campus attacks — Reuters photo

Loganathan wanted campus burial
Chennai, April 17
Professor G.V. Loganathan, who was killed in the worst shootout on the campus of University of Virginia yesterday, wanted his body to be buried within the campus in case he died suddenly while being on the faculty.

J&K leads in growth in tax revenue
Chandigarh, April 17
Believe it or not, trouble-torn Jammu and Kashmir has registered the highest growth in the country as far as the collection of revenue from various state taxes is concerned.
UPSC told to reveal cut-off marks
New Delhi, April 17
The Delhi High Court today directed the Union Public Service Commission to make public the cut-off marks obtained by candidates in preliminary test of the Civil Services examination.
In Amritsar Plus today
In Jalandhar Plus today
In Himachal Plus today

HOROSCOPE
Old woman dies after cops slap her
Batala, April 17
Some Punjab Police personnel allegedly assaulted an elderly woman in Dahiya village, about 15 km from here, today. The woman later died.

Speed up computerisation of police stations: Patil
New Delhi, April 17
Union Home Minister Shivraj Patil has stressed the need for accelerating the process of computerisation of police stations in the country.
Khaleda agrees to fly out after 'deal'
Dhaka, April 17
Former Bangladesh Prime Minister Begum Khaleda Zia has reportedly struck a "deal" with the government. She has agreed to leave the country following this "deal". Her second son Arafat Rahman, held for a day, may fly out with her. (Details on World page)


Abhi, Ash get set for the big day
Mumbai, April 17
The three-day wedding extravaganza of Abhishek Bachchan and Aishwarya Rai, which kicks off tomorrow.
Golden hands are Subroto's gift
Chandigarh, April 17
Abhishek Bachchan and Aishwarya Rai have everything going there way and with the two deciding to hold hands for a lifetime what better gift than a unique 3D-cast impression of them made in gold.

E - Revolution 2005:
A Two-day IT conclave

Assembly Elections - 2005

Turbans

Chandigarh is 50

EARLIER FEATURES
22 shot in US varsity
April 17, 2007
Rahul UP's future: Manmohan
April 16, 2007
No need for sanction in graft cases: SC
April 15, 2007
After VHP, Uma backs BJP
April 14, 2007
Now, pulse import to fight prices
April 13, 2007
Virk sent back to Maharashtra
April 12, 2007
Goodbye Halwara, hello Sahnewal
April 11, 2007
Vendetta: Capt
April 10, 2007
Don't overstep limit, PM to judiciary
April 9, 2007

Cong blown away in Delhi
April 8, 2007