PUNJAB

HARYANA

JAMMU & KASHMIR

HIMACHAL

REGIONAL BRIEFS

NATION

OPINIONS

MAILBAG

BUSINESS

SPORTS

WORLD
ADVERTISEMENT
Monday, May 14, 2007, Chandigarh, India
Updated at 3:00 am (IST)

Maya takes charge
Lucknow, May 13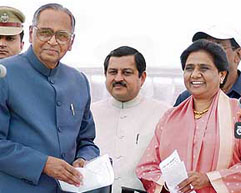 Mayawati was today sworn in as 40th Chief Minister of the state heading a government of 'sarvjan' (all castes), elected by the 'sarvjan' and promising a piece of the development cake for the 'sarvjan'.
After Kalam, who?
Cong, Left await BSP stance
New Delhi, May 13


With the process of consultations having begun in the UPA for choosing a candidate for the presidential elections, both the Congress and Left parties are awaiting feelers from the BSP which is set to play a significant role in the choice of nominee for the highest constitutional office in the country.
CAST YOUR VOTE
The recent UP election results signify caste consolidation not caste divisiveness. Do you agree?



India: The Tasks Ahead
SPECIAL SUPPLEMENT
125TH ANNIVERSARY CELEBRATIONS,
INAUGURAL SESSION



CHANDIGARH

LUDHIANA

JALANDHAR
New

DELHI

HIMACHAL PLUS
New

AMRITSAR PLUS

LIFESTYLE
New

BRIDES WANTED

GROOMS WANTED

OTHERS

HOW TO PLACE ADVTS

DMK in no hurry to decide on strategy

Fresh violence in Karachi
Three more killed, toll rises to 39
Karachi, May 13
Three more persons were killed in fresh violence in the tense Pakistani city taking the toll in yesterday's bloody clashes to 39 dead as President Pervez Musharraf and supporters of suspended Chief Justice Iftikar M Chaudhry blamed each other for the deaths.

Editorial: Killings in Karachi

Maran resigns from cabinet
Chennai, May 13
High-profile communication and IT minister Dayananidhi Maran tonight resigned from the union cabinet after the DMK decided to get him removed from it in the wake of the severe embarrassment to Chief Minister M. Karunanidhi following the exposure of chinks in the party's first family.
ADVERTISEMENT
| | |
| --- | --- |
| | |
| | HARYANA: Sonia should resign, says Bishnoi |
| | HIMACHAL: HPSEB to rake in Rs 200 cr |
| | J&K: Karan Singh wants varsity named after Maharaja Gulab Singh |
| | CHANDIGARH: Mohali resident found murdered in car |

E - Revolution 2005:
A Two-day IT conclave

Assembly Elections - 2005

Turbans

Chandigarh is 50

EARLIER FEATURES
Slowdown in farm growth
Full planning panel meets today
New Delhi, May 13
The full Planning Commission, headed by Prime Minister Manmohan Singh, meets here tomorrow to discuss the proposals to provide better technical and financial assistance to the agriculture sector and to arrest the slowdown in farm growth.
Bomb attacks: More than 60 Iraqis killed
Baghdad, May 13
A suicide truck bomber crashed into offices of a Kurdish political party today, killing at least 45 persons and wounding scores, including a mayor, officials said. It was the second suicide attack in Kurdish areas of the north in four days.
Road blockade over 'fake encounter'
Tea workers attack protesters; curfew in Tinsukia
Guwahati, May 13
Indefinite curfew has been clamped in areas under three eastern Assam police stations in Doom Dooma, Dolla and Kakopathar in Tinsukia district following violent clashes between ULFA sympathisers and tea garden workers at Dholla.
Catch 'em young, Maoist style
Alert sounded along the Indo-Nepal border
Patna, May 13
"Catch them young" is now the slogan of Maoists in Bihar. In their bid to regroup after their counterparts in Nepal joined mainstream politics, Maoists here have come out with a new recruitment scheme that revolves around targeting hapless villagers to send a male or female child to join the Red army.

HOROSCOPE
30 killed in Karachi
May 13, 2007
Maya's magic sweeps UP
May 12, 2007
77 ways to tax people, Centre tells Badal
May 11, 2007
Dinakaran office torched
May 10, 2007
Quota cheer for govt
May 9, 2007
N-deal: Bush invites PM to US
May 8, 2007
Projects cleared by Cong govt up for sale
May 7, 2007
Battle lines have been drawn, says Vanzara
May 6, 2007
Rasheed names MPs, MLAs
May 5, 2007
Punjab to probe fake killings
May 4, 2007