PUNJAB

HARYANA

JAMMU & KASHMIR

HIMACHAL

REGIONAL BRIEFS

NATION

OPINIONS

MAILBAG

BUSINESS

SPORTS

WORLD
Thursday, November 22, 2007, Chandigarh, India
Updated at 3:00 am (IST)

Nandigram boils in Kolkata
Protest over Taslima visa adds to arson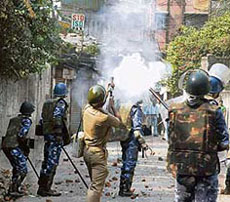 Kolkata, November 21
The Army was called in at several places in the city today when the police and the RAF failed to tackle an angry mob indulging in burning police jeeps, government buses, taxis and other vehic- les, attacking police parties and damaging public properties.

RAF personnel fire tear-gas shells on activists of the All-India Minority Forum, who were protesting against the violence in Nandigram and demanding cancellation of the visa of writer Taslima Nasreen, at Rippon Street in Kolkata on Wednesday. — PTI photo


Editorial: Oh, Kolkata!
Nation page:

Directives issued to Bengal govt: Patil

RS adjourned after uproar over Nandigram


Media misquoted me: NHRC chief
A Tribune Exclusive
Dawood, terrorist groups target India's oil assets
New Delhi, November 21
India's high value oil assets are being targeted by an unholy nexus of the underworld and terrorist groups such as the Jaish-e-Mohammed, says a report by the National Security Adviser, M K Narayanan, to the Cabinet Committee on Security Affairs.
CAST YOUR VOTE
Should all 'encounter' deaths be re-examined?

ADVERTISEMENT

CHANDIGARH

LUDHIANA

BATHINDA

JALANDHAR

DELHI

HIMACHAL PLUS

HARYANA PLUS

AMRITSAR PLUS

LIFESTYLE

BRIDES WANTED

GROOMS WANTED

OTHERS

HOW TO PLACE ADVTS
India, China for peaceful uses of nuclear energy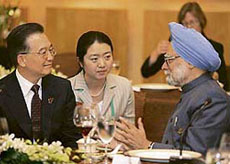 Singapore, November 21
India and China today laid stress on peaceful use of nuclear energy as a source of clean energy for attaining energy security.
China's Premier Wen Jiabao speaks with Prime Minister Manmohan Singh during the working lunch for the East Asia Summit heads of government on the sidelines of the 13th Association of South East Asia Nations Summit in Singapore on Wednesday. — Reuters photo

N-safeguards
Kakodkar meets IAEA chief
Vienna, November 21
India's nuclear energy chief met the International Atomic Energy Agency director- general today in a step expected to lead talks to put Indian reactors under IAEA safeguards after domestic opposition to the deal eased.
Uphaar case: Sentence deferred
New Delhi, November 21
A city Sessions Court today deferred the pronouncement of sentence in the Uphaar fire disaster case with the 12 convicts, including cinema owner Ansal brothers Sushil and Gopal, making a plea for releasing them on probation.

| | |
| --- | --- |
| | |
| | HARYANA: Teachers go on mass casual leave |
| | HIMACHAL: BJP to finalise list today |
| | |
| | CHANDIGARH: Battery- operated buses for city's V5 roads |
| | LUDHIANA: 4 pc entry tax enforced in state |
| | |
| | OPINIONS: Oh, Kolkata! |
| | BUSINESS: SEBI plans realty trusts |
| | |
| | WORLD: Mush issues ordinance |
| | SPORTS: We respect Pakistan: Kumble |


E - Revolution 2005:
A Two-day IT conclave

Assembly Elections - 2005

Turbans

Chandigarh is 50

125 Years of The Tribune
India: The Tasks Ahead

EARLIER FEATURES

Data of 25 million UK families lost
London, November 21
Personal data, including bank accounts, addresses and national insurance numbers, of about 25 million families in the UK has been lost in the post, posing threat of mass identity theft and bank fraud.
Badals' Assets Case
Amarinder camp to file plea in SC
New Delhi, November 21
There seems to be no end in sight to the legal battle between Punjab Chief Minister Parkash Singh Badal and his predecessor Amarinder Singh as some Congress MLAs of the former CM's camp are all set to file a petition in the Supreme Court for transfer of Badals' trial in DA case outside Punjab.
BJP leaders booked in Amritsar
FIR registered by default, will be cancelled: SSP
Amritsar, November 21
A piquant situation arose when the Kotwali police here booked president of the BJP's youth wing, district unit, Sanjay Sharma, three councillors of the ruling party and 19 others on charges of "attacking police officials" and causing "wilful interference" in the working of government department after a fortnight of the incident in the police station, here.
HOROSCOPE
Ansal brothers, 10 others convicted
November 21, 2007
Guv favours Central rule in Karnataka
November 20, 2007
Justice R.S. Pathak passes away
November 19, 2007
Propaganda on N-deal false: Manmohan
November 18, 2007
IAEA talks on
November 17, 2007
Govt may go to IAEA
November 16, 2007
Caretaker Pak govt on Friday
November 15, 2007
Her 'long march' cut off, detained Bhutto wants Mush to go
November 14, 2007
IAEA: Consensus talks with Left still on, says PM
November 13, 2007
Elections in Jan: Mush
November 12, 2007
Mamata quits Lok Sabha
November 11, 2007