Tuesday, December 4, 2007, Chandigarh, India
Updated at 3:00 am (IST)

Free & Fair Polls
Sharif, Bhutto to frame demands
Islamabad, December 3
Former Pakistan Premiers Nawaz Sharif and Benazir Bhutto tonight decided to draw up a charter of demands to ensure free and fair parliamentary elections and threatened to boycott the elections if their conditions are not met.
Sharif's nomination papers rejected
Lahore, December 3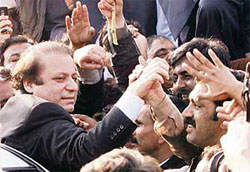 The electoral authorities today rejected former premier Nawaz Sharif's nomination papers for the January 8 election, dealing a major blow to his comeback bid in Pakistan politics.
Pakistani opposition leader Nawaz Sharif meets his supporters at Islamabad International Airport on Monday. — Reuters

Terror attack threat: Delhi on high alert
New Delhi, December 3
Fearing the possibility of a terror attack, the city has been put on an alert. Extraordinary security measures have been taken by the Delhi police after the police commissioner Y.S. Dadwal received intelligence inputs regarding the terror strike. Three organisations are believed to be planning the attacks in the national capital.
Red Fort case: SC stays death sentence
New Delhi, December 3
The Supreme Court today stayed the execution of death sentence awarded to Pakistani national and LeT militant Mohammad Ashfaq for the Red Fort attack in December 2000.