PUNJAB

HARYANA

JAMMU & KASHMIR

HIMACHAL

REGIONAL BRIEFS

NATION

OPINIONS

MAILBAG

BUSINESS

SPORTS

WORLD
Monday, February 18, 2008, Chandigarh, India
Updated at 3:00 am (IST)

Opinion polls predict hung parliament
Pakistan is all set to go to the polls tomorrow. The election, billed to be one of most crucial in country's history, will take place amid pervasive uncertainty, sporadic violence and widespread scepticism being expressed by opposition and political analysts about fairness and transparency.



Mush juggles paranoia and confidence on poll eve


Zardari warns against rigging


World page: Musharraf promises fair polls


Pakistan votes today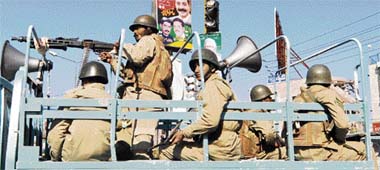 ON HIGH ALERT: Pakistani troops patrol a street in Rawalpindi on Sunday. — AFP photo
CBI arrests kidney scam kingpin's brother
New Delhi, February 17
The Central Bureau of Investigation today arrested Dr Jeevan Rawat, the brother of the alleged kidney transplant racket kingpin Dr Amit Kumar.



Online organ trade market is booming
CAST YOUR VOTE
Should actors stop smoking on screen?



CHANDIGARH

LUDHIANA

BATHINDA

JALANDHAR

DELHI

HIMACHAL PLUS

HARYANA PLUS

JALANDHAR PLUS

AMRITSAR PLUS

LIFESTYLE

BRIDES WANTED

GROOMS WANTED

OTHERS

HOW TO PLACE ADVTS

Eye on poll, Mayawati bats for ST status to Gujjars
Jaipur, February 17
With an eye on Assembly elections in Rajasthan, Bahujan Samaj Party (BSP) chief Mayawati today said her party favours ST status for Gujjars but without disturbing the share of other castes.


ANOTHER CROWN: UP Chief Minister Mayawati with a gold crown at a rally in Jaipur on Sunday. — PTI photo
Boeing bends, ready to transfer technology of F-18
New Delhi, February 17
Boeing Integrated Defence Systems today raised the pitch for the order of the 126 multi-role combat aircraft which the government is to buy for the Indian Air Force by saying that it was ready to transfer the technology for the manufacture of its F-18 Super Hornet fighter aircraft at the Hindustan Aeronautics Limited.
20 Naxalites shot dead in Orissa
Bhubaneswar, February 17
At least 20 Naxalites were killed and the figure is likely to rise further as the state government launched an intensive combing operation at various places bordering Kandhmal, Ganjam, Gajapati and Nayagarh districts.



Nation page: Govt seeks help from private agencies


Declare entire Orissa Naxal-affected, demand cops

E - Revolution 2005:
A Two-day IT conclave

Assembly Elections - 2005

Turbans

Chandigarh is 50

125 Years of The Tribune
India: The Tasks Ahead
India at Sixty
A Tribune Supplement

EARLIER FEATURES
Company's board meeting on Feb 24
Reliance Power may issue bonus shares
New Delhi, February 17
Under attack for poor showing of Reliance Power at the stock market after its listing on Monday last, Anil Ambani group today announced to consider free bonus shares for investors in the company and hit out at rivals for hammering down the shares of all the group companies.
Dada, Dravid axed from Team Pepsi
New Delhi, February 17
The change of guard in Indian cricket team is reflecting in the endorsement market, with soft drinks major Pepsi deciding to drop Sourav Ganguly and Rahul Dravid as ambassadors while roping in youngsters Ishant Sharma and Rohit Sharma, in line with its brand ideology.



Sports page: Indian batsmen come a cropper


Vat woes: Gold loses lustre in Punjab
Chandigarh, February 17
The Punjab government's decision making it compulsory for all gold traders to declare the quantity of gold being brought in the state, has curtailed the inflow of gold in Punjab. Winter being the main season for gold sales, especially in the wake of the marriage season and with NRIs flocking home, the sales have been hit hard.
HOROSCOPE
Maoists kill 15 in Orissa
February 17, 2008
ASI, six other cops booked
February 16, 2008
Pay more for petrol and diesel
February 15, 2008
End of Raj days; held, bailed out
February 14, 2008
Future tense as north Indian migrants face MNS ire
February 13, 2008
Anil fails to power
February 12, 2008
Obama closes in on Hillary
February 11, 2008
'Dr Kidney' brought to Delhi
February 10, 2008
Nepal can jail Amit in three cases
February 9, 2008
Kingpin Amit held in Nepal
February 8, 2008