PUNJAB

HARYANA

JAMMU & KASHMIR

HIMACHAL

REGIONAL BRIEFS

NATION

OPINIONS

LETTERS

BUSINESS

SPORTS

WORLD
HOROSCOPE

Friday, July 4, 2008, Chandigarh, India
Updated at 3:00 am (IST)

Good for us: Kalam
New Delhi, July 3
Having secured the endorsement of former President of India A. P. J. Abdul Kalam for the Indo-US nuclear deal, the Samajwadi Party for the first time came out in open support of the deal ditching its partners in the United Progressive National Alliance (UNPA). This decision of the SP with 39 MPs in the Lok Sabha has also put the Left under greater pressure to announce withdrawal of support to the four-year-old United Progressive Alliance.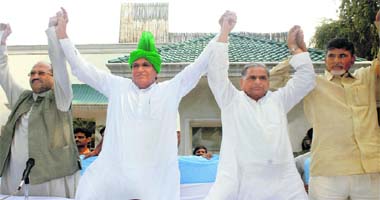 SP general secretary Amar Singh with O. P. Chautala, Chandrababu Naidu and Mulayam Singh after a meeting ofthe UNPA leaders in New Delhi on Thursday. — Tribune photo by Manas Ranjan Bhui
SC fumes over bandhs
New Delhi, July 3
On a day of BJP-sponsored countrywide bandh on the Amarnath issue, the Supreme Court today upbraided the Executive for showing 'helplessness' in acting against those holding the country to 'ransom'.



J&K page: Jammu continues to burn


Delhi page: Mixed response to bandh in Delhi
CAST YOUR VOTE
Should reality shows be monitored for abuse?

Advt
ASTROLOGER GANJAWALA
Marriage, Job, Immigration, Foreign Tour, Business, Solve with Sidh Hindu Remedies.
+91-98155-95108 (INDIA)


CHANDIGARH

LUDHIANA

BATHINDA

JALANDHAR

DELHI

HIMACHAL PLUS

HARYANA PLUS

JALANDHAR PLUS

AMRITSAR PLUS

LIFESTYLE

BRIDES WANTED

GROOMS WANTED

OTHERS

HOW TO PLACE ADVTS
4 killed in Indore
New Delhi, July 3
The nationwide bandh called by the BJP and the VHP on the Amarnath land transfer row turned violent in Indore today leaving four persons killed while highways were blocked and trains stopped disrupting normal life in parts of the country. The bandh evoked mixed response but Jammu region, the epicentre of protests since Tuesday, had no respite from violence when protesters set afire vehicles and fought pitched battles with the police at several places.
(Details on Nation page)


US Cong team stresses on Aug deadline
New Delhi, July 3
As the UPA regime intensified efforts to rescue the nuclear deal, an influential US Congressional delegation today said the pact must come back to the Congress for final vote by August as any further delay could harm the prospects of its passage during the tenure of the Bush Administration.
In Haryana Plus today
In Jalandhar Plus today

E - Revolution 2005:
A Two-day IT conclave

Assembly Elections - 2005

Turbans

Chandigarh is 50

125 Years of The Tribune
India: The Tasks Ahead

India at Sixty
A Tribune Supplement

EARLIER FEATURES
Sensex sheds 571 pts
Mumbai, July 3
Markets collapsed today a day ahead of the release of next inflation data with heavy selling pressure returning with a vengeance to knock down Sensex by a hefty over 570 points, as if to prove yesterday's strong rise was only a flash in the pan and stability is still long way. The 30-share index on the Bombay Stock Exchange ended the day a little above 13k level at 13,094.11, a huge fall of 570.51 points, or 4.18 per cent from its last close, as heavyweights in metal, realty and banking counters came again under heavy selling.
Oil above $145
London, July 3
Oil jumped to record highs above $145 a barrel on Thursday as traders rushed to buy ahead of the long holiday weekend in the world's top consumer to mark US Independence Day. Expectation was high that a combination of a weak US dollar, lower US crude stocks and tension between Israel and major oil producer Iran would push prices to $150 before the close of trade, in line with a prediction made last month. (Details on Business page)


Be wary of China: Army chief
New Delhi, July 3
Indian Army chief, General Deepak Kapoor today warned that China's "military march" could have long-term impact on India's security, while separately opining that the biggest challenge faced by the Pakistan government was to moderate the largely radical sections of the society.
In Science & Technology today
PM must address nation: SP
July 3, 2008
UPA close to getting Mulayam's support
July 2, 2008
PM offers to face House
July 1, 2008
Left refuses to budge
June 30, 2008

PDP pulls out over land row
June 29, 2008

Sensex falls 619 points
June 28, 2008
Beig, Omar ask Guv to revoke order
June 27, 2008
UPA, Left give more time to N-standoff
June 26, 2008
Repo rate, CRR hiked
June 25, 2008
No polls, please: Allies
June 24, 2008