PUNJAB

HARYANA

JAMMU & KASHMIR

HIMACHAL

REGIONAL BRIEFS

NATION

OPINIONS

LETTERS

BUSINESS

SPORTS

WORLD
Saturday, August 2, 2008, Chandigarh, India
Updated at 3:00 am (IST)

IAEA thumbs up for N-deal
Over to Nuclear Suppliers Group meeting on Aug 21-22
Vienna, August 1
Governors of the UN nuclear watchdog approved an inspections plan for India by consensus on Friday, a key step towards finalising a US-Indian nuclear cooperation deal, diplomats in the closed meeting said. The accord would open up to India the world market in atomic materials and technology for civilian use, but is controversial since New Delhi has conducted nuclear test explosions and never joined the global Non-Proliferation Treaty (NPT).



World page: PM hails IAEA approval of safeguards pact

CAST YOUR VOTE
Should senior non-performing cricketers be retired?


CHANDIGARH

LUDHIANA

BATHINDA

JALANDHAR

DELHI

HIMACHAL PLUS

HARYANA PLUS

JALANDHAR PLUS

AMRITSAR PLUS

LIFESTYLE

BRIDES WANTED

GROOMS WANTED

OTHERS

HOW TO PLACE ADVTS
In Sports Tribune today
In Amritsar Plus today
Amarnath Land Row
Samba, Jammu on boil: 2 killed, 50 hurt
Jammu, August 1
Fresh violence gripped Samba and Jammu districts today leaving two persons dead and 50 injured. In Samba, protesters defied curfew and clashed with the police. In retaliatory action, the police lathi-charged, lobbed tear gas shells and fired gunshots to disperse the protesters. Two persons were killed and over 20 injured.



Nation page: Panel calls off talks with Guv


J&K page: Shrine board to be recast: Vohra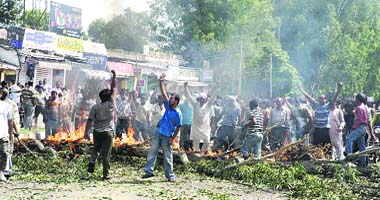 Agitators set trees on fire in front of the PDP office in Jammu to protest against the arrival of PDP president Mehbooba Mufti.
— Tribune photo by Anand Sharma
Sunshades


A combo photo shows the solar eclipse seen in Jiuquan, north China's Gansu province on Friday. Thousands of people gathered in northern China to watch the first solar eclipse in the country this century, state media reported, a week ahead of the Olympic Games. — AFP
Amarnath row: PM meets Advani
New Delhi, August 1
The BJP here appeared to be heeding to Prime Minister Manmohan Singh's appeal to help in bringing down the temperature in Jammu on the Amarnath transfer of land issue. The Prime Minister had invited Leader of the Opposition L.K. Advani here on Thursday "to discuss the current security environment in the country", according to BJP spokesman Ravi Shankar Prasad.
Harkishan Surjeet is dead


Noida, August 1
The ailing senior CPM Leader, Harkishan Singh Surjeet breathed his last in Metro Heart Institute and Hospital, Noida, at 1.35 pm today. Surjeet, who had been coming to the Metro hospital quite often for many years for treatment, died of cardiac arrest and acute breathing problem, according to doctors attending on him.



Editorial: Practical communist


Oped page: Comrade Harkishan


World page: PM condoles Surjeet's death


E - Revolution 2005:
A Two-day IT conclave

Assembly Elections - 2005

Turbans

Chandigarh is 50

125 Years of The Tribune
India: The Tasks Ahead

India at Sixty
A Tribune Supplement

EARLIER FEATURES

SAARC summit begins today
Colombo, August 1
The 15th SAARC summit begins here tomorrow amid unprecedented security with Prime Minister Manmohan Singh and leaders of other seven South Asian nations set to sign four key agreements, including a mutual legal assistance treaty on criminal matters, that is expected to go a long way in tackling the menace of terrorism in the region. The summit is being under the shadow of an upsurge in terrorist activities in the region, particularly in India, accentuating the need for a comprehensive common strategy by the SAARC nations to combat the scourge.


Nine days later, Somnath puts up a robust defence
New Delhi, August 1


Nine days after being expelled from the CPM, Lok Sabha Speaker Somnath Chatterjee today rose to defend his decision, saying he consciously decided to uphold the Constitution at the risk of being dubbed anti-party. Denying allegations that what he did was for some personal consideration, the Speaker chose to bat for the often-proposed convention that an MP, once elected Speaker, should temporarily resign from the party to prevent compromising his position vis-à-vis his party's.
HOROSCOPE
Polls on mind, govt woos rural households
August 1, 2008

Pak troops fire again along LoC
July 31, 2008
Respect ceasefire, Antony tells Pakistan
July 30, 2008
Attempt to destroy social fabric: PM
July 29, 2008
Now, Surat on terror radar
July 28, 2008
Blasts in Ahmedabad; 29 dead
July 27, 2008
Serial blasts rattle Bangalore
July 26, 2008
Maya's farm income claim not genuine: CBI
July 25, 2008
CPM shows the door to Somnath Chatterjee
July 24, 2008
Manmohan govt wins trust vote, N-deal can move on
July 23, 2008