PUNJAB
HARYANA
JAMMU & KASHMIR
HIMACHAL
REGIONAL BRIEFS
NATION
OPINIONS
LETTERS
BUSINESS
SPORTS
WORLD
Sunday, January 17, 2010, Chandigarh, India
Updated at 3:00 am (IST)

Patil to be Punjab Governor
Narayanan for WB, Prabha Rau off to Rajasthan
New Delhi, January 16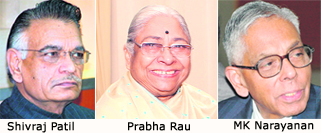 Former Home Minister Shivraj V Patil would be the new Governor of Punjab. President Pratibha Patil today issued a formal notification to appoint new governors to eight states.
CAST YOUR VOTE
Is Hockey in India being neglected?

EDUCATION
JOBS & CAREERS
HEALTH & FITNESS
SCIENCE & TECHNOLOGY
REAL ESTATE
SPORTS
Blamed, damned, absolved in 14 months: Deshmukh, Patil, ex-IB chief

Nation page: Patil will bring a wealth of experience

Bindra shoots at rifle body, says let me train my way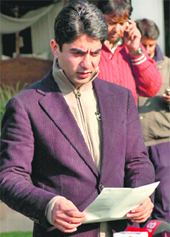 Kishanpura (Punjab), January 16
This is the big year for sports, and in typical Indian style, we have started it with the biggest controversies. As if the shame brought on to the national game was not enough, now the country's only Olympic Gold medallist, Abhinav Bindra has threatened to quit the sport.


Abhinav Bindra at his home near Chandigarh on Saturday. Tribune photo: Parvesh Chauhan

Sports page: NRAI, MoS dodge onus
Advt
NDA 60 Glorious Years
1857 The First Challenge
E - Revolution 2005:
A Two-day IT conclave
Assembly Elections - 2005
Turbans
Chandigarh is 50
125 Years of The Tribune
India: The Tasks Ahead
India at Sixty
A Tribune Supplement
EARLIER FEATURES
On Sundays
On Saturdays
Intense cold back in North
New Delhi, January 16
Intense cold was back in parts of north India today with temperature dropping in Punjab and Haryana even as a thick blanket of fog engulfed the National Capital affecting 25 flights and train services.
Trains collide in fog, 3 die
Lucknow/Firozabad, January 16
Low visibility due to heavy fog caused a rail and several road accidents in different parts of the state, killing at least seven persons and injuring more than 40 others. At least three persons were
Dinakaran Impeachment
SC judge to head panel
New Delhi, January 16
Supreme Court Judge VS Sirpurkar will head a three-member panel that will investigate the allegations against Karnataka Chief Justice PD Dinakaran whose impeachment has been sought by 75 opposition members of the Rajya Sabha.
Govt schools no good! Think again
New evidence from rural India shows they're good and, at times, even better than private ones
New Delhi, January 16
At a time when an increasing number of poor parents in rural India are on a saving spree to send their wards to private schools, new evidence shows there is no need to do that.
Rana, Headley indicted
January 16, 2010

Teen from Pak a potential fidayeen
January 15, 2010

CBI chargesheets Sajjan Kumar
January 14, 2010

CJI office comes under RTI: HC
January 13, 2010

India, B'desh ink key pacts
January 12, 2010

'Substantial' land lost to China: Report
January 11, 2010

All terror groups still active in Pak: Antony
January 10, 2010
No anticipatory bail for Rathore
January 9, 2010
Srinagar siege ends
January 8, 2010
Militants strike in Srinagar, cop killed
January 7, 2010