PUNJAB
HARYANA
JAMMU & KASHMIR
HIMACHAL
REGIONAL BRIEFS
NATION
OPINIONS
LETTERS
BUSINESS
SPORTS
WORLD
Friday, March 26, 2010, Chandigarh, India
Updated at 3:00 am (IST)

Bonanza for 14 backward classes, creamy layer left out
SC okays 4 pc job quota for Muslims in AP
But says final decision by Constitutional Bench
in Aug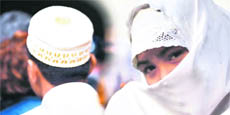 New Delhi, March 25
The Supreme Court today provided a major relief to Andhra Pradesh in a politically sensitive case by issuing an interim order giving the green signal for implementing the 4 per cent quota for Muslims in jobs and higher education.
BJP: Religion-based quota disastrous
Finally, Punjab to have a cancer registry
New Delhi, March 25
Alarmed by the preliminary findings of the first house-to-house survey of cancer cases in Punjab, the Centre has decided to allow the state's proposal for setting up a Population Based Cancer Registry (PBCR) to monitor the actual cancer burden over a period of time and between regions.
CAST YOUR VOTE
Should politicians be allowed to withdraw so-called vendetta cases against MLAs?

EDUCATION
JOBS & CAREERS
HEALTH & FITNESS
SCIENCE & TECHNOLOGY
REAL ESTATE

SPORTS
Tribune Impact
Badal calls for a departmental probe


Chandigarh, March 25
The Punjab chief minister Parkash Singh Badal today informed the Vidhan Sabha that he has called for a departmental inquiry into the state of anganwaris after reading the two-part report in The Tribune. He, however, brushed aside a demand for an Assembly committee to look into it.
India's fear: Secret US-Pak deal
New Delhi, March 25
India has taken a positive view of the US snub to Pakistan over its demand for a civil nuclear accord similar to the Indo-US deal while cautioning Washington to ensure that the aid being given to Islamabad was not diverted towards military activities.
UNION BUDGET 2010-11
RAILWAY BUDGET
2010-11
NDA 60 Glorious Years
1857 The First Challenge
E - Revolution 2005:
A Two-day IT conclave
Assembly Elections - 2005
Turbans
Chandigarh is 50
125 Years of The Tribune
India: The Tasks Ahead
India at Sixty
A Tribune Supplement
EARLIER FEATURES
On Sundays
On Saturdays
Data Superhighway
Cabinet okays linking up of knowledge institutions
New Delhi, March 25
The government today approved the establishment of the National Knowledge Network (NKN) with an outlay of Rs 5990 crore to be implemented by NIC over a period of 10 years. The decision was taken at the meeting of the Cabinet Committee on Infrastructure (CCI) chaired by Prime Minister Manmohan Singh here today.
Jalandhar boys do a chak de in Durban
Rurka Kalan football club wins the Street
Child World Cup
Chandigarh, March 25
The IPL is in full swing. Crowds in the stadiums are teeming, TRPs are phenomenal and cricket, like always, is making waves. Even in these times of forced oblivion, football in India has taken a big, but modest step forward. Thanks to Youth Football Club, Rurka Kalan (Jalandhar), India won the inaugural Street Child World Cup held in South Africa from March 15 to 21 by beating Tanzania in the final. The YFC team was representing India and fought it out with Tanzania, Philippines, Brazil, UK, Nicaragua, Ukraine and hosts South Africa.
Punjab takes poor children for a ride
March 25, 2010
Maoists disrupt life, kill 2, blast tracks
March 24, 2010
Pak wants N-parity with India, US mum
March 23, 2010
Bomb-like object in airline cargo
March 22, 2010
India will get access to Headley: US
March 21, 2010
Death for hijackers
March 20, 2010
Godowns full but Pawar rules out wheat export
March 19, 2010
Foreign education Bill hits roadblock
March 18, 2010
Manpreet treads cautiously
March 17, 2010
Govt forced to defer N-liability bill
March 16, 2010