PUNJAB
HARYANA
JAMMU & KASHMIR
HIMACHAL
REGIONAL BRIEFS
NATION
OPINIONS
LETTERS
BUSINESS
SPORTS
WORLD
Sunday, April 18, 2010, Chandigarh, India
Updated at 3:00 am (IST)

Just before IPL match, blasts in Bangalore
n Twin explosions outside Chinnaswamy Stadium
n Five security personnel among the 15 injured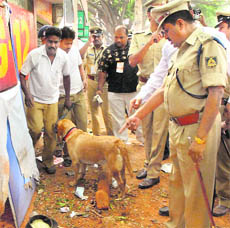 Bangalore, April 17
Two low-intensity explosions near a packed Chinnaswamy cricket stadium less than an hour before an IPL match left 15 persons, including five securitymen, injured and sent nervous crowds running in panic.

Policemen at the blast site in Bangalore on Saturday. — PTI

World wants us to succeed: PM
'But we need to clean up our act at home'
On Board Air India One, April 17
At the end of his eight-day foreign trip in which he met 50 world leaders including those of the US, China, Germany, Brazil and South Africa, Prime Minister Manmohan Singh was decidedly upbeat on the outcome of his tour-de-force of world affairs and said it held a larger message for India.


PM congratulates The Tribune Editor-in-Chief
CAST YOUR VOTE
Should politicians be allowed to withdraw so-called vendetta cases against MLAs?

UNION BUDGET 2010-11
RAILWAY BUDGET
2010-11
NDA 60 Glorious Years
1857 The First Challenge
E - Revolution 2005:
A Two-day IT conclave
Assembly Elections - 2005
Turbans
Chandigarh is 50
125 Years of The Tribune
India: The Tasks Ahead
India at Sixty
A Tribune Supplement
EARLIER FEATURES
On Sundays
On Saturdays
Nuke Conference
US the only atomic criminal: Iran
Calls for suspension of US from IAEA, revision of NPT
Tehran, April 17
Faced with fresh America-initiated UN sanctions, Iran upped the ante against the United States on the nuclear issue by calling for its suspension from the International Atomic Energy Agency (IAEA) for possessing nuclear weapons and revision of the NPT as it kick-started an international conference on nuclear disarmament in Tehran today.
Kings owe Rs 5-cr tax, get notice
Chandigarh, April 17
It's raining troubles for the Kings XI Punjab in this IPL season. After a dismal performance of its team on the home turf — that has raised many eyebrows and left fans sulking — the Mohali franchisee is now reeling under tax problems.


This Punjab school has no students
Prempura (Fatehgarh Sahib), April 17
It's not a school for scandal but certainly has something queer about it. The government primary school at Prempura lacks the very thing that forms the core of a school: Students. But it certainly has a teacher — 32-year-old Rupinder Kaur.
BRIC wants greater role for India, Brazil in UNSC
April 17, 2010


Finally, PSEB is history
April 16, 2010


PM: Talks with Pak only after action against 26/11 culprits
April 15, 2010
Zero-tolerance for illicit N-trade: PM
April 14, 2010
India to set up global nuclear centre
April 13, 2010
Obama's high-wire act to prevent nuclear terror
April 12, 2010
Polish Prez, wife among 97 killed in air crash
April 11, 2010
Buck stops at my desk: Chidambaram
April 10, 2010
US, Russia ink pact to cut N-arsenal
April 9, 2010
If this is war, we will fight back, says PC
April 8, 2010