PUNJAB
HARYANA
JAMMU & KASHMIR
HIMACHAL
REGIONAL BRIEFS
NATION
OPINIONS
LETTERS
BUSINESS
SPORTS
WORLD
Thursday, May 13, 2010, Chandigarh, India
Updated at 3:00 am (IST)

India should not hold talks with Pak: BJP chief
Wants Kasab's death sentence to be executed swiftly
Chandigarh, May 12


A day after Indian Foreign Minister S M Krishna announced that he would pay his maiden visit to Pakistan in July to hold talks with his counterpart Shah Mahmood Qureshi, the Bharatiya Janata Party has vehemently opposed resumption of any dialogue. In doing so, India's principal opposition party has thrown a major dampener over the outcome of the talks.
BJP president Nitin Gadkari at The Tribune office at Chandigarh on Wednesday. Tribune photo: Manoj Mahajan
Opinion page: "I will give the UPA zero out of 10"
Honour Killing
Mother-in-law, bride killed
Patti, May 12


In an act of savagery that smacks of honour killing, Gurleen Kaur, a newly married 19-year-old woman, and her mother-in-law were hacked to death and her husband was chased out of his house and shot at in Bahmniwala village in the wee hours today by father, brother, two uncles and four armed cousins of the girl.
A file photo of Amarpreet and Gurleen Kaur
CAST YOUR VOTE
Should the execution of Ajmal Kasab's death sentence be put on fast track?

EDUCATION
JOBS & CAREERS
HEALTH & FITNESS
SCIENCE & TECHNOLOGY
REAL ESTATE

SPORTS & WELLNESS
Special to the tribune
A first: S Asian in Cameron Cabinet
A Pakistani-origin lawyer has become the first South Asian ever to join the British government as Cabinet Minister. Sayeeda Warsi (39), who was born in Yorkshire town of Dewsbury, is an unelected member of the House of Lords. She has been also slotted to take over as the new chair of the Conservative Party, which comes with a Cabinet rank.
Koli gets death in Nithari case
Ghaziabad, May 12


A special CBI court here today awarded death sentence to Surinder Koli, a convict in the sensational Nithari killings case, for rape and murder of seven-year-old Arti. The death sentence to 38-year-old Koli, a domestic help of businessman and accused Moninder Singh Pandher, was awarded by special CBI judge A K Singh, in the second of the 19 cases of the Nithari killings.
UNION BUDGET 2010-11
RAILWAY BUDGET
2010-11
NDA 60 Glorious Years
1857 The First Challenge
E - Revolution 2005:
A Two-day IT conclave
Assembly Elections - 2005
Turbans
Chandigarh is 50
125 Years of The Tribune
India: The Tasks Ahead
India at Sixty
A Tribune Supplement
EARLIER FEATURES
On Sundays
On Saturdays
Chawla in Trouble
Raids on centres of Sahni's kin deliberate, says BJP panel
Chandigarh, May 12
Punjab Health Minister Laxmi Kanta Chawla is in big trouble with the two-member state BJP committee probing her spat with Chief Parliamentary Secretary (CPS) Jagdish Sahni ruling that the raids on three ultra sound diagnostic centres associated with Sahni "seemed deliberate" and were the cause for the resultant attacks on her by the CPS.
103 die in Libya plane crash
n Explodes on landing n 8-year-old boy sole miracle survivor
Tripoli, May 12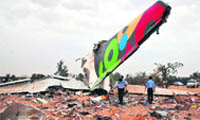 A Libyan plane arriving from South Africa disintegrated on landing at Tripoli airport today, killing 103 persons but leaving an eight-year-old boy as the sole miracle survivor, officials said.
Rescue teams search the site of the Libyan Afriqiyah Airways plane crash in Tripoli on Wednesday. — AP


Sikh Marriage Act ready for Cabinet nod
Chandigarh, May 12
If the assurances given by Union Law Minister Veerappa Moily to a delegation of the Delhi Sikh Gurdwara Management Committee on Wednesday are any indication, the draft of the Sikh Marriage Act is ready for ratification by the Union Cabinet. After clearance by the Cabinet, it will be introduced in Parliament at its next session.
Krishna to visit Pak
May 12, 2010
Higher Education Bill hits a bump
May 11, 2010
Chhattisgarh forests death traps: Police
May 10, 2010
BJP wins power tussle
May 9, 2010
Mukesh wins gas battle against Anil in SC
May 8, 2010
Gallows for Kasab
May 7, 2010
No lie detector tests: SC
May 6, 2010
Kasab's head, nothing less, says prosecution
May 5, 2010
Verdict out, Kasab guilty
May 4, 2010
Gill applies brakes on tenure of Kalmadi & Co
May 3, 2010