EDUCATION
JOBS & CAREERS
HEALTH & FITNESS
SCIENCE & TECHNOLOGY
REAL ESTATE

SPORTS & WELLNESS
2 dead in stampede at Delhi railway station
New Delhi, May 16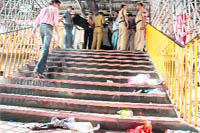 Mismanagement of operations by the Northern Railways this afternoon led to a stampede at New Delhi Railway Station, killing two persons, including a child, and injuring nine.
The stampede site at New Delhi railway station. Tribune photo: Manas Ranjan Bhui
Alert in Phagwara as dera head shot dead
Hoshiarpur/Phagwara, May 16
An alert has been sounded in Phagwara sub-division and its adjoining areas after unidentified assailants shot dead the head of Dera Mai Dass (Nirmali sect), Sant Pradhan Singh, at Baddon village of Hoshiarpur district today morning.
UNION BUDGET 2010-11
RAILWAY BUDGET
2010-11
NDA 60 Glorious Years
1857 The First Challenge
E - Revolution 2005:
A Two-day IT conclave
Assembly Elections - 2005
Turbans
Chandigarh is 50
125 Years of The Tribune
India: The Tasks Ahead
India at Sixty
A Tribune Supplement
EARLIER FEATURES
On Sundays
On Saturdays
Munda BJP pick for Jharkhand
Ranchi, May 16
After getting a nod from the leadership to go ahead with government formation in Jharkhand, senior BJP leader Arjun Munda tonight met Chief Minister Shibu Soren, but it appears that a consensus is not evolved to end the three-week-old political crisis in the state. Munda, who was closeted with Soren and his son Hemant at the latter's residence for about 50 minutes, drove away to his house without speaking to the media.
Call for anti-Posco protests
Bhubaneswar, May 16
Agitated over the police action injuring several protesters opposing setting up of Posco steel plant in the state, Left parties and certain anti-project outfits today called statewide protests on May 20 and 21.
Access to Headley
Krishna to hold talks with Clinton
New Delhi, May 16
India and the US will work out processes to give Indian investigators access to David Headley, a planner of the 2008 Mumbai terror attacks, and the issue will figure during their Strategic Dialogue in Washington next month.
INSIDE IRAN
The Charm Offensive
By Raj Chengappa Editor-in-Chief

Everyone in Tehran drives at breakneck pace and a ride in taxi is, as one diplomat says, "always rough".
External Affairs Minister SM Krishna with Speaker of the
Iranian Parliament Ali Larijani in Tehran.

Jihadis camping in PoK to sneak into India
May 16, 2010

3 Pakistani aides of NY bomb plotter held
May 15, 2010

Centre clears decks for first defence varsity
May 14, 2010

India should not hold talks with Pak: BJP chief
May 13, 2010
Krishna to visit Pak
May 12, 2010
Higher Education Bill hits a bump
May 11, 2010
Chhattisgarh forests death traps: Police
May 10, 2010
BJP wins power tussle
May 9, 2010
Mukesh wins gas battle against Anil in SC
May 8, 2010
Gallows for Kasab
May 7, 2010