Violence in valley
4 deaths shatter brief lull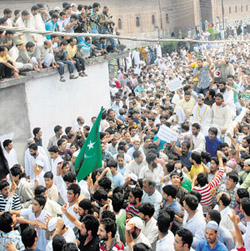 Srinagar, August 13
Four persons, including three teenagers, were killed and 40 others injured in fresh clashes between protesters and security personnel in various parts of Kashmir valley today. Among the injured were 10 police personnel.
INSIDE SRINAGAR: Protesters hold a march on Friday. Tribune photo: Amin War

Don't gag whistleblowers: SC
New Delhi, August 13
Acknowledging the importance of freedom of speech and the role of whistleblowers, the Supreme Court today dismissed a contempt petition against a person who wrote an editorial highlighting the irregularities and corruption in the Central Excise, Customs and Service Tax Appellate Tribunal.
Amend dowry law, govt told
New Delhi, August 13
Expressing concern over the rising number of dowry-related cases filed on various grounds, trivial or genuine, or with "oblique motive," the Supreme Court today asked the Union government to make "suitable changes" in the Section 498-A IPC.