A file picture of pirates captured off the coast of Somalia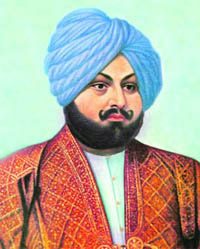 FOUNDER'S DAY: All of us pay our respectful tributes to Sardar Dyal Singh Majithia, who founded The Tribune this day 131 years ago.

SC verdict on PC's role in 2G scam today
New Delhi, February 1
The Supreme Court will deliver tomorrow its judgments on three pleas in the 2G scam case, including one for probing the alleged involvement of Home Minister P Chidambaram when he was the Finance Minister and another for setting up a special investigation team (SIT) in view of the "slipshod" probe conducted by the CBI in the case.
Honour killing: Ludhiana man kills sister, her lover
Ludhiana, February 1
In an apparent case of honour killing, a son of a Congress worker allegedly killed his 25-year-old sister and her 'lover' by shooting them from a point blank range. The incident took place at Hambran village, around 20 km from Ludhiana.


Modi gets relief, HC rejects plea for court appearance
Ahmedabad, February 1
In a reprieve for Chief Minister Narendra Modi, the Gujarat High Court today rejected a petition for summoning him to the Nanavati Commission for questioning in the 2002 post-Godhra riots. The court observed there was no substance in the plea. A division bench of Justice Akil Kureshi and Sonia Gokani, while dismissing the application of NGO Jan Sangarsh Manch (JSM), said the Commission probing the riots has larger discretionary powers to summon witnesses.