PUNJAB

HARYANA

JAMMU & KASHMIR

HIMACHAL

REGIONAL BRIEFS

NATION

OPINIONS

LETTERS

BUSINESS

SPORTS

WORLD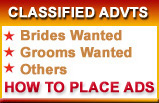 Wednesday, May 9, 2012, Chandigarh, India
Edition update time 2:30 am (IST)

Latest news, updated at 6:45 pm
SC strikes down Haj subsidy
Quotes from Koran, says pilgrimage should be at one's own expense; wants subsidy to end in 10 yrs
New Delhi, May 8
Quoting from the Koran that Haj, pilgrimage to Makkah, should be performed by Muslims by spending their own money, the Supreme Court today directed the government to gradually phase out subsidy over 10 years. The funds so saved should then be utilised for uplift of the community by educating them and improving their social development indices, the court said.

No shift in Pak policy on ceasefire violations
Jammu, May 8
Despite Home secretary-level talks between India and Pakistan this month, there is no major shift in Pakistan's strategy when it comes to ceasefire violations and infiltration bids in Jammu and Kashmir, particularly south of Pir Panjal ranges. Army describes such misadventures as desperate attempts on the part of Pakistan to boost sagging morale of remaining ultras in the state.