Guide to best colleges

Results of Punjab Assembly Polls 2012


THE TRIBUNE DEBATE: NCTC

Army Chief's Age Row

2011: THE YEAR OF UPRISINGS

Punjab Public Transport, an investigation

WORLD CUP 2011: CRICKET SPECIAL

Turbans

EARLIER FEATURES

Gurdaspur water has arsenic traces
Chandigarh, August 4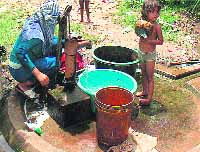 At least two blocks in the Gurdaspur district have shown the presence of arsenic in a study being carried out by expert committee commissioned by the Chief Minister, Prakash Singh Badal, in July. The content of 'cancer causing element' has been found in excess to the WHO prescribed limits of 10 micrograms.


Keshubhai quits BJP, to launch new party
Ahmedabad, August 4
Capping weeks of a high-pitch campaign against Chief Minister Narendra Modi, his predecessor Keshubhai Patel today quit the BJP and will announce a new political outfit tomorrow to challenge the Gujarat strongman in the December Assembly elections.
After Tri Valley, visa scam in another US varsity
New York, August 4
A year after the Tri Valley university scam left several students from India high and dry, another American varsity with a significant Indian population, has run into trouble after its CEO was charged with visa fraud. Jerry Wang, 34, the CEO of Sunnyvale California-based Herguan University and the University of East-West Medicine, has been charged in a San Jose District Court with a 15-count indictment on visa fraud, including that he forged federal documents to allow foreign students to enter and stay in the US.
Drought fears real: Rains likely to be 15% deficient
August 4, 2012
After fast, Team Anna eyes politics
August 3, 2012
Govt nod to FDI from Pakistan
August 2, 2012
Day 2: India gasps for power
August 1, 2012
North knocked out for 12 hours
July 31, 2012
Poor monsoon will add to economic woes, says industry
July 30, 2012
PM announces relief for Assam riot-hit
July 29, 2012
DNA test out, confirms Rohit is Tiwari's son
July 28, 2012
With 73% rainfall deficit, Haryana stares at drought
July 27, 2012
President Pranab takes charge
July 26, 2012
Assam struggles to control deadly riots; 11 more killed
July 25, 2012
NCP puts off plans to pull out of UPA govt, for now
July 24, 2012