Don't defy court orders, SC warns babus
Takes former Chief Secy of Bihar to task, endorses fine slapped on him
New Delhi, December 8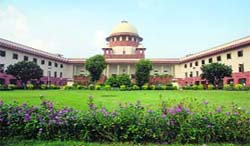 Cautioning the authorities against taking court orders lightly, the Supreme Court has issued a "stern warning" to a retired Chief Secretary of Bihar, Gurminder Singh Kang, and endorsed the Rs 2,000 fine slapped on him for defying a Patna High Court order.
MURDER of a policeman
Gunshots, crowds and a police station 5 minutes away
Amritsar, December 8
The place where ASI Ravinderpal Singh was shot dead is a five-minute walk from the Chheharta police station and a two-minute walk from the bustling Chheharta Chowk where three to four policemen are always deployed. Yet, he died there after being shot in broad daylight — not once but twice — over a period of 45 minutes.