Regal repast
Dining with the Maharajas explores cuisines that are prepared and passed down for generations in the royal houses of India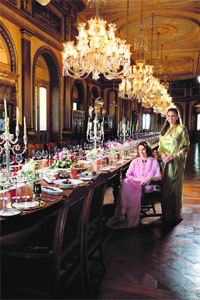 'His highness had to have money for his Arabian Nights palaces, his host of beautiful women, all of whom seem to have adored him, his parks full of fantastic animals, of birds from every part of the world, for the polo and cricket he so magnificently supported, for his jewels and gold plate, his prodigious hospitality, his fleet of cars, and also for his boundless personal generosity,' describes English writer Rosita Forbes while visiting Maharaja Bhupinder Singh of Patiala in the 1930's. Ms Forbes and many other great chroniclers of our time, who witnessed the Indian maharajas in all their glory before the dictates of time, politics, and public opinion led to the abolition of the monarchy in India, have captured a bygone era where even the exigencies of time and money did not interfere in the pursuit of perfection. Perhaps this drive for excellence was most evident on the dinner tables of these ruling families. Palace kitchens were laboratories for producing gourmet cuisine that was the handiwork of master chefs who channelled love and labour in creating unforgettable meals and recipes.
A table fit for an emperor: Ezra Jah and her daughter Shekyar Jah, against the backdrop of the 101-seat dining table at the Falaknuma Palace, Hyderabad

---
Arts
Lovers' museum
From Sohni Mahiwal to Mirza Sahiban to Laila Majnu, the Uruswati Museum of Folklore in Haryana opens a world of love legends while celebrating and cataloguing these folk tales from the days of yore
Narendra Kaushik
it looks like an old haveli somebody may have constructed to spend quiet hours away from the hullabaloo of the city life. Its majestic black doors with motifs carved on them, heavy door frames, brown-ochre colour of walls and decorated parapet — everything reminds you of the havelis people would build in the area around Chandni Chowk in old times to house their large families.
Royal display
The famous relics of the period of the Raj are on display at a 14-week exhibition in Chicago
Lalit Mohan
We may have thrown them into the dustbin of history, but India's erstwhile maharajas have a certain mystique that attracts voyeurs the world over. Whether it is their decadence or opulence, they still have their TRPs. To showcase their life and times, the Victoria and Albert Museum of London has brought its famed collection of relics of the Raj for a 14-week exhibition to Chicago.
---
Sports
'We can't afford private coaches'
The Commonwealth Doubles Gold medallist Jwala Gutta is known to speak up her mind
Badminton is in exciting phase in India. A medal at Olympics, various players consistently doing well at various international events, recently announced cash-rich International Badminton League on the lines of IPL, and controversies off the court have forced even the most casual follower to take note. No doubt, badminton is the fastest growing sport in the country. Jwala Gutta, a national champion at 16 and the current Commonwealth Doubles Gold medallist, speaks to Amit Khanna about the future of the game:
A quiver full of laurels
Bronze medal winner at the 2010 Commonwealth Games, Gagandeep Kaur took up archery to gain fee concessions. Now she dreams of an Olympic medal
Gagan K. Teja
Having shot to fame with a bronze medal in the 2010 Commonwealth Games at New Delhi, archer Gagandeep Kaur has become a household name in Punjab. She has won numerous medals in various international championships, including a silver medal in the World Cup in Ogden, USA, last year. She has been a permanent member of the Indian contingent (compound round) for quite some time now and her recent performance in the inter-railway championship is a proof enough that she is here to stay.
---
Society
Woods are no more dark & deep
Wildlife can only survive if each forester has the powers to work effectively
Deepak Rikhye
Not many tea planters have written a book. However there are exceptions. Edward Pritchard Gee (1904-1968) was a Cambridge-educated Anglo-Indian tea planter. He was acknowledged for his discovery of Gee's golden langur in 1953. His comprehension of wildlife was given credence because he interacted with the famous ornithologist, Salim Ali. He had also discussed his observations with S.H Prater, former curator, Bombay Natural History Society. EP Gee utilised holidays touring forests in India.
---
travel
Cruising the Brahmaputra
The mighty river breaks into the plains of Assam spreading fertility and destruction in its passage. Fertility to enrich the flat fields with humus; destruction when it floods forests and farmlands and villages
Hugh and Colleen Gantzer
The river is the powerful, petulant, whimsical son of the God of Creation. The putra of Brahma emerges in the highlands of Tibet, shoulders its way through a narrow gorge, roaring and laden with silver sand and silt, breaks into the plains of Assam spreading fertility and destruction in its passage. Fertility to enrich the flat fields with humus from the wooded mountains; destruction when its load of silver sand clogs waterways, builds shoals and sandbanks overnight, floods forests and farmlands and villages.
---
Entertainment
Climax under wraps
It is tough to keep up the suspense of a crime thriller in these times of publicity overdrive and frantic social networking sites
Deepa Ranade
Arushi murder, Kahaani and many other such cases and events were attributed to the climax of Aamir Khan's latest release — Talaash. Aamir Khan had deliberately adopted the policy of under publicising the film, he reasoned, "Sometimes being quiet also might promote it. Talaash is an intense suspense drama... so I don't want to be talking about the film everywhere. I want the suspense to be there, that's part of the promotions," he added.
Kamasutra in 3D
Kerala-based Rupesh Paul is soon coming up with a film on the treatise on sex, whose 3D trailer was released at IFFI recently
Nonika Singh
In India, only sex and Shah Rukh Khan sell. Not exactly a new dialogue. Neha Dhupia said it sometime ago. But since there is no copyright over utterances, Rupesh Paul, a filmmaker from Kerala, has no hesitation in reiterating it either. More so, since he is soon going to come up with his latest film on ancient Indian treatise on sex Kamasutra, whose 3D trailer was released at the International Film Festival of India, Goa. Sure, the film will be graphic enough and he has no intentions of cutting corners.
---