New Mayor's main task, to tackle groupism
Patiala, April 3
The 34-year-old Patiala Mayor Amarinder Bajaj has many tough challenges ahead. Bajaj needs to tame factionalism, both within and outside the SAD; the financial crisis Patiala Municipal Corporation (MC) finds itself in; and placating the traders who are fiercely opposing the implementation of Property Tax in the district.
Probe diversion of Central funds, says PPCC chief
Chandigarh, April 3
Punjab Pradesh Congress president Partap Singh Bajwa today demanded a CBI inquiry into the "diversion" of Central funds by the SAD-BJP Government as had been admitted by Finance Minister Parminder Singh Dhindsa and ratified by the Comptroller and Auditor General's (CAG ) report for 2011-12.
Helpline for 'victimised' Congress men launched
Chandigarh, April 3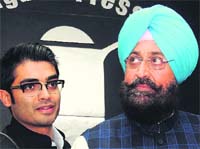 The Punjab Congress today launched a toll-free helpline to ensure free legal aid to "victims" of Akali vendetta which will initially cover Amritsar district.







PPCC chief PS Bajwa launches a free legal helpline for party workers in Chandigarh on Wednesday. Tribune photo: Manoj Mahajan
UPA Govt forced us to levy property tax: SAD
Chandigarh, April 3
A war of words has erupted between the ruling Shiromani Akali Dal (SAD) and the Congress on the issue of property tax.


Fight against system not any political party: Anna
Bathinda, April 3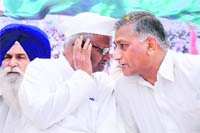 Social activist Anna Hazare's Jantantra Morcha is not seeking a change of power at the Centre but is fighting for a change in the existing system of choosing the leaders. The ongoing Jantantra Yatra is a decisive fight for changing the system, which will empower the common man.

Former Army Chief General VK Singh (right) shares a point with social activist Anna Hazare in Bathinda on Wednesday. Tribune photo: Pawan Sharma
Time to adopt new cropping system: Dr Swaminathan
Amritsar, April 3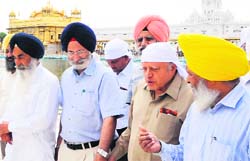 Rajya Sabha MP and noted agriculture scientist Dr MS Swaminathan today stressed on the need to develop a new cropping system which was economically viable, ecologically sustainable and financially attractive to young farmers. He said the maintenance of Punjab's agricultural health was fundamental to the country's food security.

Dr MS Swaminathan (second from right) at the Golden Temple in Amritsar on Wednesday. Photo: Vishal Kumar
Pingalwara makes strides in natural farming, gets record yield
Amritsar, April 3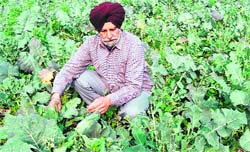 The All-India Pingalwara Charitable Society, which is primarily known for its yeoman's service to the poor and needy, is making rapid strides in the field of natural farming. It has become a guiding light for the state farmers who have been resorting to indiscriminate use of pesticides.

Rajbir Singh, member, All-India Pingalwara Charitable Society, at the society's farm at Dhirakot village near Amritsar. Photo: Vishal Kumar
Poor children in Fatehgarh Sahib to get scholarhips
Fatehgarh Sahib, April 3
The pilot project to provide scholarships to children belonging to families living below the poverty line (BPL) under the Aam Admi Bima Yojna (AABY) will be launched in Fatehgarh Sahib district. AABY is a centrally sponsored scheme.
Don't term pesticides as poison, PAU to scientists
Ludhiana, April 3
Punjab Agricultural University (PAU) has instructed scientists not to label any pesticide as "zehar" (poison). The scientists are advised to use the term "rasayan" (chemical) for the same.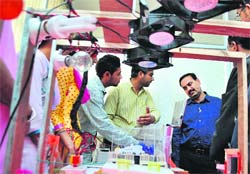 A student explains the working of an energy saving model to visitors on the campus of a college in Patiala on Wednesday. A Tribune photograph
PSEB misses deadline, pupils yet to get books
Muktsar, April 3
The Punjab School Education Board (PSEB) is yet to follow the instructions of the Director General of School Education (DGSE) to distribute books among all students of government schools up to Class XII before March 31.
With EVMs stored, Muktsar school auditorium kept locked up
Muktsar, April 3
An auditorium built at a cost of Rs 10 lakh at the Government Girls' Senior Secondary School here is not serving the intended purpose of holding cultural events.
Helpline for prisoners' kin launched
Patiala, April 3
The Punjab Jails Department has started a special helpline to help the relatives and friends of convicts, lodged in Punjab jails, get information on their premature release.


HC: Appoint VAT tribunal members in three months
Chandigarh, April 3
A Division Bench of the Punjab and Haryana High Court today directed the Punjab Government to appointment members of the Punjab VAT Tribunal within three months.
ETT posts: HC strikes down quota for state candidates
Chandigarh, April 3
In a significant judgement, a Full Bench of the Punjab and Haryana High Court today ruled that the grant of five additional marks to candidates passing out from rural schools for appointment as ETT teachers was unsustainable.
HC notice to Central Govt
Chandigarh, April 3
The Punjab and Haryana High Court today put on notice the Union Ministry of External Affairs on a public interest litigation stating that two Indians, both from Punjab, were languishing in a Pakistan jail even after completion of sentence. In its petition, Lawyers for Human Rights International claimed that the matter was brought to its notice by Pakistan-based advocate Zulfiqar Ali Jehangir who claimed to have met some Indians who had served their sentences but were still in detention at Lahore's Kot Lakhpat jail.
Dera chief exempted from court hearing
Bathinda, April 3
Chief Judicial Magistrate Ashok Kumar today exempted the controversial head of Dera Sacha Sauda, Gurmeet Ram Rahim Singh from personal appearance before his court on April 6 in a case of "hurting religious sentiments of Sikhs" against him.


Man shoots at wife, kills self
Sangrur, April 3
An elderly person today allegedly shot himself dead after injuring his wife seriously at his house in Khanal Khurd village, near Dirba. The injured woman has been admitted to PGI, Chandigarh.
15 arrested for ASI's killing, four weapons seized
Jalandhar, April 3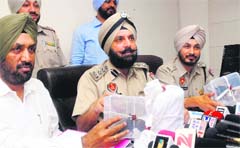 The police has arrested 15 persons, including two of the main accused, Tarwinder Singh Tally, a UK-based NRI from Tut Kalan village in Nakodar, and hardened criminal Pushpinder Noni of Gulmarg Colony here, for the shootout in Phagwara on March 31 in which ASI Gurdev Singh was killed.
Yurinder Singh Hayre (centre), SSP- Rural, shows the weapons recovered from those involved in Assistant Sub-Inspector Gurdev Singh's murder at a press meet in Jalandhar on Wednesday. Tribune photo: Malkiat Singh

Man booked under FEMA
Chandigarh, April 3
The Chandigarh Enforcement Directorate (ED) today, registered a case against Har Bhagwan Kalra, an employee of the Air Shagoon Network Pvt Ltd. He was arrested from the Chandigarh airport for making illegal transactions in foreign exchange last month.