LIFE+STYLE

CHANDIGARH

LUDHIANA

BATHINDA

JALANDHAR

AMRITSAR TRIBUNE

JALANDHAR TRIBUNE

BATHINDA TRIBUNE

JAMMU TRIBUNE

KASHMIR TRIBUNE

DELHI

DEHRADUN

DEHRADUN PLUS

rescue mission
Tribune team at epicentre
IAF copter carrying 20 crashes near Gaurikund; 8 bodies found
7,000 still stranded as landslides, rain hamper rescue; toll 822
Gauchar, June 25
Gauchar, June 25
An Mi-17 V5 helicopter of the Indian Air Force crashed near Gaurikund this evening killing eight persons, including five IAF personnel and pilots. The helicopter was returning from Kedarnath after dropping supplies. The toll may rise to 20 as the helicopter was carrying ITBP and NDRF men.
(Special reports on Nation page)
| | |
| --- | --- |
| | Mi-17s could not undertake rescue operations till about 12.30 pm due to adverse weather conditions. Tribune photo: Vinod Pundir |
'Rambo' act: After hitting out at Modi, Uddhav backtracks
New Delhi, June 25
The BJP appears to have successfully managed to bring around the Shiv Sena, one of its two remaining allies after the JD(U) left the NDA recently. The Sena had been indulging in some perceptible posturing after the appointment of Gujarat Chief Minister Narendra Modi as the poll panel chief.
OTHER PAGES

HARYANA: State to impose VAT on builders


HIMACHAL: Govt mulls FIR in phone tapping case


CHANDIGARH: Cycle-rickshaws a phone call away


LUDHIANA: Engg student stabbed to death


DELHI: 3 die, 50 in hospitals after drinking polluted water


Business:

SEBI eases FII entry norms; tightens buyback rules

OPINIONS: Politics over disaster

SPORTS: Played hard, but can't party harder

WORLD: Putin says Snowden at Moscow airport, rejects extradition


The tribune guide to best colleges

Budget
2013-14

INDIA CHINA WAR 50 YEAR LATER

YEAREND SPECIAL: 2012

Year of survival

The tribune 130 years
a witness to history
book released by prime minister manmohan singh

Guide to best colleges

Results of Punjab Assembly Polls 2012

HIMACHAL VOTES 2012

EARLIER FEATURES

Fungicide traces hit exports of basmati to USA
Punjab, Haryana producers want Centre's intervention
Chandigarh, June 25
The US continues to be an elusive market for rice exporters from across the country, including the main basmati producing states of Punjab and Haryana, over the traces of fungicide found in their produce.


India to implement US concept of community colleges
8 awards of joint research projects under Singh-Obama Knowledge Initiative announced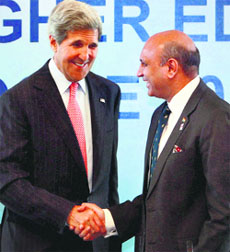 New Delhi, June 25
The India-US relations are set to graduate to the education sector. India today drew the contours of a course for collaboration with educational institutions in the United States, with particular accent on developing skills through tie-ups between technical institutes and community colleges.
US Secretary of State John Kerry with HRD Minister M M Pallam Raju in New Delhi on Tuesday. PTI

Militants strike again, kill 8 jawans in Valley
June 25, 2013
Rescue efforts gather pace
June 24, 2013
1,000 dead; rescuers focus on Badrinath
June 23, 2013
Uttarakhand death toll 550, 48 bodies found in Haridwar
June 22, 2013
Toll may be in several hundreds: U'khand CM
June 21, 2013
Toll touches 150, hundreds missing
June 20, 2013
Rain fury: 131 dead, 500 missing
June 19, 2013
PM inducts 8 ministers; Kharge gets Railways
June 18, 2013
JD(U) parts ways with BJP
June 17, 2013
Party to decide on JD(U): Rahul
June 16, 2013