LIFE+STYLE

CHANDIGARH

LUDHIANA

BATHINDA

JALANDHAR

AMRITSAR TRIBUNE

JALANDHAR TRIBUNE

BATHINDA TRIBUNE

JAMMU TRIBUNE

KASHMIR TRIBUNE

DELHI

DEHRADUN

DEHRADUN PLUS

Srini set to return as BCCI boss
Probe panel gives clean chit to CSK, R'sthan Royals in spot-fixing scandal
Kolkata, July 28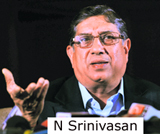 The decks were today cleared for president-in- exile N Srinivasan's possible return to the BCCI top post after a two-judge probe panel found no evidence against his team Chennai Super Kings in the IPL spot-fixing and betting scandal which rocked the sixth edition of the event.
Will speed up Haryana rail projects: Kharge
Hansi (Hisar), July 28
Union Railway Minister Mallikarjun Kharge on Sunday said the three pending rail projects in Haryana would be taken up on priority provided the state government shared half of the expenditure involved. Kharge made this offer while addressing a rally here after laying the foundation stone of the Hansi-Rohtak track.
Militants gun down SPO in north Kashmir
Srinagar, July 28
A Special Police Officer (SPO) was shot dead by militants at his home near north Kashmir's volatile Sopore town on Sunday morning. Mudasir Ahmad Dar, a contractual employee in the state police department, was shot dead by "pistol-borne militants" at his residence in Ontoo-Hamam locality near Chanakan in Sopore town around 9.50 am, a police officer said.

OTHER PAGES

HIMACHAL: CEA to take final call on committee report


CHANDIGARH:
Groundwater level up, poses threat

LUDHIANA: Contractor still flouting norms


DELHI: Stunt biker killed in police firing


Business:

Bumpy road ahead for auto parts industry

OPINIONS:Settling border issue

SPORTS: As easy as stroll in the park

WORLD: 200 Mursi's supporters killed in Saturday's firing: Brotherhood


Lahore Log

The tribune guide to best colleges

Budget
2013-14

INDIA CHINA WAR 50 YEAR LATER

YEAREND SPECIAL: 2012

Year of survival

The tribune 130 years
a witness to history
book released by prime minister manmohan singh

Guide to best colleges

Results of Punjab Assembly Polls 2012

HIMACHAL VOTES 2012

EARLIER FEATURES
200 Mursi's supporters killed in Saturday's firing: Brotherhood
Cairo, July 28
Defying threats to evict them, thousands of supporters of deposed Egyptian President Mohamed Mursi today staged a sit-in at a mosque here. Vowing to stand their ground despite violent crackdown on their supporters by armed forces, Brotherhood leaders addressed protesters overnight, saying they would not back down from their demands, including the reinstatement of Mursi.
(Details on World page)

Modi visa row: Letters by MPs to Obama 'authentic'
Washington, July 28


The controversy over Indian MPs' letters to President Barack Obama for denying visa to Narendra Modi has taken a new turn with a California-based Forensic Document Examiner certifying that the signatures of the lawmakers are "original and authentic" and not a cut and paste job as claimed.


Tribune Special
N-powered sub Arihant all set to sail out from Vizag
New Delhi, July 28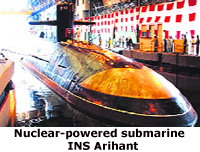 Indigenously built nuclear-powered submarine, INS Arihant, is finally set to sail out from its base at Vishakhapatnam. The 6,000-tonne submarine, armed with nuclear missiles, is ready after years of efforts interspersed with sanctions in 1998 and impediments due to non-availability of cutting-edge technology.
UK set to go ahead with controversial visa bond
July 28, 2013
Takht directs DSGMC ex-chief Sarna to do religious service
July 27, 2013
Court: Batla encounter not fake; IM operative convicted
July 26, 2013
Compensate Railways for loss in 2011 stir, SC tells Haryana
July 25, 2013
India, US keen to take civil N-deal forward
July 24, 2013
US Vice-Prez arrives to discuss trade, defence ties
July 23, 2013
Uncertainty over sale of power to Pakistan
July 22, 2013
100 Yamunanagar villages flooded
July 21, 2013
PM admits growth rate may fall below target
July 20, 2013
4 dead, 42 injured as mob raids BSF post in J&K
July 19, 2013