LIFE+STYLE

CHANDIGARH

LUDHIANA

BATHINDA

JALANDHAR

AMRITSAR TRIBUNE

JALANDHAR TRIBUNE

BATHINDA TRIBUNE

JAMMU TRIBUNE

KASHMIR TRIBUNE

DELHI

DEHRADUN

DEHRADUN PLUS
India opens retaliatory fire in Uri, Nowgam; 2 Pak soldiers 'killed'
New Delhi/Islamabad/Jammu, August 7
Away from the disruptions in Parliament, India yesterday took a military stance to retaliate to Pakistani Army firing and not just stop at lodging the usual complaint over the hotline between the Director Generals of Military Operations (DGMOs) of both the countries.
Resumption of dialogue with Pak hangs in balance
New Delhi, August 7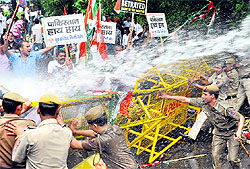 The fate of dialogue with Pakistan hangs in balance in the wake of the killing of five Indian soldiers along the Line of Control (LOC) yesterday.

Youth Congress activists brave water cannons during a protest near the Pakistani High Commission in New Delhi on Wednesday. Tribune photo: Mukesh Aggarwal



Pak summons Indian diplomat


BJP leaders call on PM, don't want him to meet Sharif

OTHER PAGES

PUNJAB: Thapar University changes terms mid-session, PhD students in a fix


HARYANA: After Hooda's appeal, Shah relents


HIMACHAL: Landslide damages Army houses in Dharamsala


CHANDIGARH: Revise house tax, UT Adviser to MC

LUDHIANA: Rumour-
mongers to face action


DELHI: Voter card racket busted; Election Office files 32 cases


Business:

Govt taking steps to boost manufacturing

OPINIONS: A dastardly attack


NATION: Cong forms 4-member panel to address Seemandhra issues


SPORTS: Saina, Sindhu make it India's day

WORLD: US needs to stay on top of terrorism: Obama


Lahore Log

The tribune guide to best colleges

Budget
2013-14

INDIA CHINA WAR 50 YEAR LATER

YEAREND SPECIAL: 2012

Year of survival

The tribune 130 years
a witness to history
book released by prime minister manmohan singh

Guide to best colleges

Results of Punjab Assembly Polls 2012

HIMACHAL VOTES 2012

EARLIER FEATURES
Food Bill in LS amid protests
AIADMK opposes it; DMK wants changes
New Delhi, August 7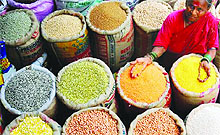 The much-debated Food Security Bill, which aims to provide the country's 67 per cent of the population the right to highly-subsidised food, was introduced in the Lok Sabha today amid sloganeering and protest by the Opposition over the killing of five Indian soldiers by the Pakistan Army yesterday.
DSGMC chief told to take off turban at Rome
Amritsar, August 7
Delhi Sikh Gurdwara Management Committee (DSGMC) president Manjeet Singh GK was asked to take off his turban during a security check at the Rome International Airport in Italy on the intervening night of Tuesday and Wednesday. When he refused, he was not allowed to board the flight.
Snowden effect: Obama cancels meeting with Putin
Washington, August 7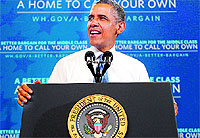 US President Barack Obama is cancelling a meeting with Russian President Vladimir Putin scheduled for next month in Moscow, the White House said on Wednesday.

Barack Obama in Phoenix, Arizona, on Tuesday. —AFP

5 soldiers killed in Pak ambush
August 7, 2013
SP, Cong slug it out over UP officer
August 6, 2013
Turbulence looms as crucial monsoon session begins
August 5, 2013
Bombers target Indian mission in Afghanistan, 12 locals dead
August 4, 2013
Telangana storm hits Cong as 8 MPs quit, 4 ministers ready to go
August 3, 2013
Govt wants parties out of RTI ambit
August 2, 2013
40 feared dead as bus falls into Bhakra canal near Sirhind
August 1, 2013
Green light for 29th state Telangana
July 31, 2013
Crucial Tuesday for Telangana
July 30, 2013
India, Pak chalk out schedule for resuming dialogue
July 29, 2013
UK set to go ahead with controversial visa bond
July 28, 2013