LIFE+STYLE

CHANDIGARH

LUDHIANA

BATHINDA

JALANDHAR

AMRITSAR TRIBUNE

JALANDHAR TRIBUNE

BATHINDA TRIBUNE

JAMMU TRIBUNE

KASHMIR TRIBUNE

DELHI

DEHRADUN

DEHRADUN PLUS
Sharif sad, says keen to meet Manmohan
New Delhi/Islamabad, August 8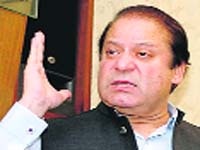 Hours after Defence Minister AK Antony blamed the Pakistan Army for the killing of five Indian soldiers along the Line of Control (LoC), Pakistan Prime Minister Nawaz Sharif sought to cool down tempers by expressing sadness over the incident which "resulted in flaring up tensions and (causing) loss of precious human lives".


Retaliate to Pak firing as per norms: Army Chief

New Delhi, August 8
Army Chief Gen Bikram Singh has made it clear to his commanders along the Line of Control (LoC) with Pakistan that they should retaliate to Pakistani firing and events across the LoC as per laid down policies and instructions.


Family members of jawan Vijay Kumar Rai during his cremation at Vyapur in Patna district on Thursday. — PTI
OTHER PAGES

HARYANA: Furnish financial details to HC panel, pvt schools told


HIMACHAL: Landslide fear haunts Dharamsala village


CHANDIGARH: Mayor walks out, offers to quit


LUDHIANA: Govt gives in to developers' pressure


DELHI: Election Office to ensure voting of staff on duty


Business:

To boost Re, RBI to sell bonds worth Rs 22,000 cr weekly

OPINIONS: Soldiers' killings

SPORTS: Sensational Sindhu stuns second seed

WORLD: Taliban bomber targets Pak cop's funeral; 38 killed


Lahore Log

The tribune guide to best colleges

Budget
2013-14

INDIA CHINA WAR 50 YEAR LATER

YEAREND SPECIAL: 2012

Year of survival

The tribune 130 years
a witness to history
book released by prime minister manmohan singh

Guide to best colleges

Results of Punjab Assembly Polls 2012

HIMACHAL VOTES 2012

EARLIER FEATURES
Italy says sensitive to Sikhs' concerns
India takes up turban issue, Italian Ambassador called to the foreign office
New Delhi/Amritsar, August 8
Italy today reassured India that it was sensitive to the concerns of the Sikh community in the wake of a controversy after a Sikh delegation was held up at Rome airport and members asked to remove their turbans.



Punjab page: Harsimrat raises turban issue in LS


Centre owes apology to Sikhs: Sukhbir

Bus travel to cost more in Punjab from today; fares hiked by 5%
Chandigarh, August 8
Come Friday, and hundreds of thousands of passengers using state transport buses in Punjab will have to pay more for their travel. Bus fares will go up by 4 paise per km from tomorrow. After the 5 per cent increase in fares, passenger travelling by ordinary buses will have to pay 83 paise per km, while those travelling by AC buses will have to pay 99.60 paise per km.


Lakshmi, show-stopper buffalo at Jind show, sold for Rs 25 lakh
Hisar, August 8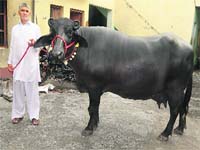 'Black Beauty' Lakshmi, the show-stopper buffalo in the Murrah catwalk two years ago in Jind, has fetched a whopping Rs 25 lakhs to its owner. The deal has been finalised and an Andhra Pradesh farmer has accepted the offer.
Black beauty: Lakshmi has been bought by an Andhra Pradesh farmer


Furore in Parliament over Antony's 'clean chit' to Pak on LoC killings
August 8, 2013
5 soldiers killed in Pak ambush
August 7, 2013
SP, Cong slug it out over UP officer
August 6, 2013
Turbulence looms as crucial monsoon session begins
August 5, 2013
Bombers target Indian mission in Afghanistan, 12 locals dead
August 4, 2013
Telangana storm hits Cong as 8 MPs quit, 4 ministers ready to go
August 3, 2013
Govt wants parties out of RTI ambit
August 2, 2013
40 feared dead as bus falls into Bhakra canal near Sirhind
August 1, 2013
Green light for 29th state Telangana
July 31, 2013
Crucial Tuesday for Telangana
July 30, 2013