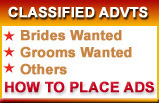 LIFE+STYLE

CHANDIGARH

LUDHIANA

BATHINDA

JALANDHAR

AMRITSAR TRIBUNE

JALANDHAR TRIBUNE

BATHINDA TRIBUNE

JAMMU TRIBUNE

KASHMIR TRIBUNE

DELHI

DEHRADUN

DEHRADUN PLUS

Nothing to hide on missing coal files, PM tells Oppn

New Delhi, September 3
Prime Minister Manmohan Singh today assured the Parliament of initiating a thorough probe, including by the CBI, if the missing coal files remain untraceable. The Prime Minister's explanation, however, failed to convince the incensed Opposition members who disrupted proceedings in both Houses.
As employees wait, Punjab says not blocking salaries
Chandigarh, September 3
The Punjab Government today claimed that there was no move to hold back employees' salaries which were being released. A majority of government employees, however, claimed that they had still not received their salaries for August.
Two in Hoshiarpur get jail for entire life in rape case
Hoshiarpur/Chandigarh, Sep 3
Passing probably the first judgment under the amended Section 376-D of the Indian Penal Code (IPC), Additional Sessions Judge (Hoshiarpur) JS Bhinder today sentenced Daljit Singh and Amarjit Singh "Bittu" to "imprisonment for life" that shall mean imprisonment for the remainder of their lives in a rape case.



Editorial: Rape victims — from anonymity to non-entity

OTHER PAGES

HIMACHAL: Work on Theog-Rohru highway to start soon


CHANDIGARH: Child falls into pit, rescued


LUDHIANA: Imported cycles to cost more


DELHI: School student crushed, 16 buses damaged


Business:

Bloodbath over downgrade jitters, Syria

OPINION: Time to deliver


NATION: Cong seeks Modi's resignation over sting showing he protected Shah


SPORTS: Federer in self-destruct mode

WORLD: US steps up Pak nuke surveillance


Lahore Log

The tribune guide to best colleges

Budget
2013-14

INDIA CHINA WAR 50 YEAR LATER

EARLIER FEATURES

Apex court now says eminent persons can head info panels
New Delhi, September 3
The Supreme Court today recalled its September 2012 verdict restricting the posts of Chief Information Commissioner (CIC) and ICs to judges of the SC or the Chief Justices of High Courts (sitting or retired in both cases) and ruled that these positions can be offered to eminent persons in the fields of law, science and technology, social service, management, journalism, administration and governance.


Sukhbir re-elected SAD chief, aims to spread his wings
Amritsar, September 3
Punjab Deputy Chief Minister Sukhbir Singh was today re-elected as the Shiromani Akali Dal (SAD) president for a second term. Chief Minister Parkash Singh Badal was re-elected party patron. Sukhbir said his top priority would now be to expand his party's base in other states with Punjabi-speaking population. Interacting with mediapersons, Sukhbir said the SAD would contest elections in Delhi, Haryana, Uttar Pradesh and other states having Punjabi-speaking population.



Punjab page: All is well with state's economy: Sukhbir
| | |
| --- | --- |
| | Former SGPC chief Bibi Jagir Kaur congratulates Deputy CM Sukhbir Badal after his re-election as the SAD president in Amritsar on Tuesday. Photo: Vishal Kumar |
Food Bill gets Parliament nod
September 3, 2013
SC pushes for swift justice in rape cases
September 2, 2013
Juvenile held guilty, to spend three years in special home
September 1, 2013
House logjam hitting investor mood: PM
August 31, 2013
Terror mastermind Bhatkal held
August 30, 2013
Re in tailspin amid concerns over oil prices
August 29, 2013
Govt steps in to put mega projects on fast track
August 28, 2013
Food Security Bill clears LS hurdle
August 27, 2013
Monsoon bounty: Good rains, plentiful grains
August 26, 2013
Sonia rules out early polls, sure of UPA-III
August 25, 2013
12 Andhra MPs suspended in LS
August 24, 2013