LIFE+STYLE

CHANDIGARH

LUDHIANA

BATHINDA

JALANDHAR

AMRITSAR TRIBUNE

JALANDHAR TRIBUNE

BATHINDA TRIBUNE

JAMMU TRIBUNE

KASHMIR TRIBUNE

DELHI

DEHRADUN

DEHRADUN PLUS
Sturdier Re, Syria help Sensex clock biggest gain in 4 years
Mumbai, September 10
Markets were on fire on Tuesday with the Sensex zooming to near 20,000-mark and the rupee gaining 140 paise on the back of strong export and car sales data and receding concerns over a US attack on Syria.
Muzaffarnagar Mayhem
Curfew relaxed in three areas; toll 35


Lucknow, September 10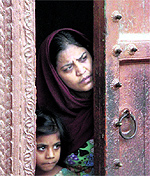 Curfew was today relaxed in the three areas of trouble-hit Muzaffarnagar in Uttar Pradesh even as the death toll in the clashes in the district and adjoining towns mounted to 35.


A mother and daughter peek from inside their house in Muzaffarnagar on Tuesday. PTI


Syria agrees to Russia's plan to surrender chemical weapons
Moscow/Washington, Sept 10
Syria today agreed with the Russian proposal to place its chemical weapons stocks under international control.
OTHER PAGES

HARYANA: Govt to take legal opinion on properties of Chautala trusts


HIMACHAL: Power prices shoot up, but state won't get much


CHANDIGARH: Fire stations lack firepower


LUDHIANA: Stock exchange in trouble


DELHI: Providing food to poor is not wastage of money: Rahul

BUSINESS: Exports up 13% in August; trade gap dips to $11 bn

OPINION: Half-truths on Punjab


NATION: It's time for speedy trial in all rape cases: Activists


SPORTS: Nadal triumphs in clash of the titans

WORLD: Pak militants behead 3 anti-Taliban militia


Lahore Log

The tribune guide to best colleges

Budget
2013-14

INDIA CHINA WAR 50 YEAR LATER

EARLIER FEATURES
Congress projects Rahul Gandhi at Delhi event
New Delhi, September 10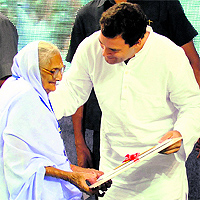 Rahul Gandhi will lead the Congress from the front in the coming Lok Sabha as well as the Assembly polls, Union Minister Sachin Pilot said today, skirting the question whether he would be projected as Prime Ministerial candidate to take on Narendra Modi.


Congress V-P Rahul Gandhi at a function in New Delhi on Tuesday. A Tribune photograph

Tarun Gogoi roots for Rahul as next PM
Guwahati, September 10
Assam Chief Minister and a veteran leader of the Congress, Tarun Gogoi, today rooted for party vice-president Rahul Gandhi as the next Prime Minister of the country.
Stage set for entry of top foreign varsities
New Delhi, September 10
Bypassing the Foreign Education Providers Bill pending for discussions in Parliament since three years, the government has gone ahead and sent proposals to the Department of Industrial Policy and Promotion (DIPP) and the Department of Economic Affairs (DEA) to permit foreign universities to open campuses in India as companies under the Companies Act.