For the young, raring to read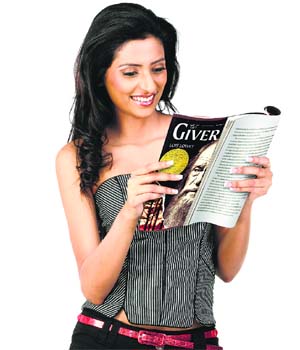 There are many choices available for young readers as authors address their dilemmas and challenges. Despite huge reliance on gadgets, more and more youngsters are becoming avid readers
Vibha Sharma
Young adult (YA) is a category which is differentiated from adult largely by the age of the protagonists. So often the dilemmas and challenges faced by the protagonist in a YA novel could be similar to that faced by an adult, except that the age of the protagonist means that the challenges will be faced in a different way. As children graduate from board books, picture books, chapter books to novels; they are children no more, nor can they be categorised as grown-ups either. So it is absolutely fair to have a separate category of books addressing and satisfying the desire of reading of young adults.
---
ArtS
The fruits of passion
West met East on the canvas of Amrita Sher-gil in strokes of sheer genius. This is evident in an exhibition mounted at the National Gallery of Modern Art in Delhi at the close of her centenary celebrations
Nirupama Dutt
A hundred years done and gone, Amrita Sher-gil (1913 to 1941) continues to intrigue the collective consciousness from Shimla to Lahore; from Delhi to Chennai as the first lady of the modern Indian canvas. Her iconic status remains undisputed till date. Besides her beauty, her short but flamboyant life is the stuff legends are made of.

Broad brush
---
FITNESS
good health
Fighting fit at forty
In the forties, the body undergoes hormonal changes and metabolism slows down. Reduced muscle strength and chronic fatigue occur. Age-busting exercises and nutritious diet help us to beat the clock
Anjali Mukerjee
We all know that ageing is inevitable — but how gracefully you age is up to you. Scientific research shows that we can turn back the clock through a targeted regimen of age-busting exercises and nutrition. By exercising for just 30 minutes a day and eating for maximum health and vitality, we can not only build strength, shed extra pounds, improve flexibility and balance, but also look years younger, even after forty and beyond.
Bags of burden
The load of a school bag coupled with faulty ways of carrying it is having a negative impact on children, resulting in back or shoulder pain
Dr Rajeev K. Sharma
it can be a disconcerting sight —an eight-year-old carrying a bag heavy enough to tire her mother. Yet, today the weight of school bags has ceased to bother us. This heavy load can have a negative impact on a child's health, particularly if it is putting an uneven burden on her/his back and shoulders.
---
Society
Colours of empowerment
Rami Ben and Laxmi Ben from the hinterland of Gujarat have used their entrepreneurial skills to train themselves as well as other women
Geetu Vaid
Empowerment, enterprise, entrepreneurship, profit and annual turnover may be common sounding words in an urban set up and coming from a B-school graduate, but one does sit up and take a note when the person using these is a simple tribal with not much education, and more so when the person happens to be a woman from one of the most backward areas in the country.

SOUL TALK
---
TraveL
The French sienna town
Roussillon, with its cluster of red-roofed houses, reminds one of an eccentric artist's palette of earthy colours
Kalpana Sunder
As we wind our way through miles of vineyards, suddenly the colour of the earth changes to a deep orange, like the fiery flames of a fire and the deep red cliffs of Roussillon, come into view. It reminds one of an eccentric artist's palette of earthy colours or of the exotic spices like nutmeg and cinnamon.

Globe trotting
---
Entertainment
The dubbing debacle
The release of Yash Raj Films' Gunday recently in two languages — Hindi and a dubbed Bengali version in West Bengal — has stirred a hornet's nest, with the regional cinema opposing the move. Here's a peep at how the issue of dubbing is fast becoming a pan-Indian debate
Shoma A. Chatterji
dubbing constitutes two dimensions. One is 'voice' category dubbing where someone else dubs for the actor on screen because the latter either does not know the language or is not proficient enough. The other is from the angle of transliteration where an entire film is dubbed in a different language. Films simultaneously shot in two language versions do not enter into this debate.
The enigmatic Hooda
Easily one of the hottest actors around, Randeep Hooda sets the screen ablaze with his intense performances
Nonika Singh
Like the simmering characters he gets under the skin of onscreen, it's hard to nail him down. Inscrutable, abrasive and a trifle impatient, Randeep Hooda is not an easy man to decode. Perhaps, part of his allure lies in his brusqueness. So even though he opens up to reveal some facets of his personality, there is nothing like Randeep unplugged or no holds barred.
---