HOROSCOPE
THE TRIBUNE MAGAZINES
On alternate Mondays

On Sundays
On Saturdays
IN PASSING

No suitcase, only fruits and vegetables, Sir !

by Sandeep Joshi
PSGPC releases parallel calendar
Amritsar, April 18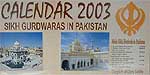 Following the SGPC's release of Nanakshahi calendar here on Baisakhi. The Pakistan Sikh Gurdwara Parbandhak Committee also released a parallel calendar a day earlier on April 13 to mark the Baisakhi celebrations at Gurdwara Panja Sahib Hassan Abdal there.
DSGMC jatha back from Pak
Wagah, April 18
The President of Pakistan, General Pervez Musharraf, has agreed in principle to liberalise the policies to ensure a smooth flow of Sikh pilgrims from India to pay obeisance at gurdwaras of Pakistan.
8 killed, 20 hurt as buses collide
Jhansan (Tanda), April 18
Eight passengers were killed and 20 injured in a head-on collision between two overloaded buses early today. The accident occurred at about 7.45 am when the driver of a Jalandhar-bound bus of Jalandhar's Society Bus Service lost control of the vehicle in his bid to overtake another bus of the same company.
USA seeks Iraqi help on WMD
Baghdad, April 18
The USA says it needs the help of Iraqis to find Saddam Hussein's alleged weapons of mass destruction as a diplomatic row brewed between Washington and the United Nations over economic sanctions.


US delegation meets Advani
In video: (28k, 56k)

Edit page: The eagle has landed in Iraq
World page:

USA accused of 'crime of century'

White House art advisers quit

Egyptian museum displays antiquities
Woman kills leopard with sickle
Balh (Mandi), April 18
Nirmala Devi, 30-year-old woman of Pipli village near here, battled with a leopard for almost 15 minutes before she killed the spotted beast with a sickle as villagers watched from a safe distance yesterday.


| | |
| --- | --- |
| | A seriously injured Nirmala Devi and the leopard she killed with a sickle. |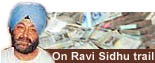 Talks with truckers fail
April 18, 2003
USA blocks Iraq-Syria pipeline
April 17, 2003
16,000 Iraqi soldiers surrender
April 16, 2003
Tikrit falls to allies
April 15, 2003
Fierce fighting near Tikrit
April 14, 2003
Northern Iraq falls to coalition forces
April 13, 2003
CBI unearths major IT refund scam
April 12, 2003
Allies meet fresh resistance
April 11, 2003
Looting erupts in Baghdad
April 10, 2003
Allies hound Saddam with bunker-buster bombs
April 9, 2003
US forces seize Saddam's palace
April 8, 2003
US plane lands at Baghdad airport
April 7, 2003