CHANDIGARH

LUDHIANA

JALANDHAR
New

DELHI

HIMACHAL PLUS
New

AMRITSAR PLUS

LIFESTYLE
New

BRIDES WANTED

GROOMS WANTED

OTHERS

HOW TO PLACE ADVTS

Nithari: CBI takes charge
New Delhi, January 10
The CBI today finally took over the probe into the killing of children and women at Nithari in nearby Noida from the Uttar Pradesh Police by registering some cases.



Pandher, Surendra undergo medical check-up


NSE GAINS
Enter: NYSE, Goldman Sachs
New Delhi, January 10
Marking the opening up of the Indian stock exchanges to foreign investment, the world's largest stock exchange — New York Stock Exchange — today entered India by inking a deal to pick up a 20 per cent stake in the National Stock Exchange along with Goldman Sachs and two other private equity funds for $490 million.
Sidhu to surrender in HC today
Chandigarh, January 10
Former Indian cricket star-turned-politician Navjot Singh Sidhu and his accomplice in the case of death of a 65-year-old Patiala resident, who was beaten by them in 1988, will surrender before the Punjab and Haryana High Court tomorrow morning.
Weary Iraq waits for Bush's new way forward
Baghdad, January 10
US President George W. Bush was on late Wednesday expected to propose sending about 20,000 more troops to Iraq but there was scepticism in Baghdad the plan would end the constant violence.


India: The Tasks Ahead
SPECIAL SUPPLEMENT
125TH ANNIVERSARY CELEBRATIONS,
INAUGURAL SESSION









HOROSCOPE
FORUM
Forum provides our readers with an opportunity to express their views on some of the vital issues facing the country. The new question being posed is:
How can Indian hockey be saved?
The answers can be
e-mailed to:
[email protected]
H.K. Dua
Editor-in-Chief

India talks tough on N-deal
New Delhi, January 10
Noting that it has certain concerns with regard to the recently enacted US law on civil-nuclear cooperation, India today made it clear that it would "walk out" of the deal if at any point it seemed to undermine its national interests.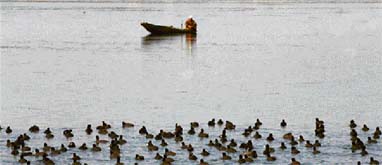 Frozen calm:

A Kashmiri fisherman works near a frozen portion of the Dal Lake in Srinagar on Wednesday. Amritsar recorded minus one degree celsius. — AFP
PSLV-C7 up
The PSLV-C7 rocket took off from the Indian Space Research Organisation at Sriharikota, about 110 km northeast of Chennai, on Wednesday.
(Details on Nation page)
WW-II veteran dies fighting for dues
Chandigarh, January 10
For 45 long years, a bullet embedded in his body was a constant reminder of battle - not only against the Japanese whom he had fought during World War II, but also the against the bureaucratic establishment here.


iPhone: Smart future is here
San Francisco, January 10
Apple on Wednesday debuted its much-anticipated take on the smart phone, a sleek device with a large screen that combines a phone, an iPod and instant messaging, sending its shares to a record high. Steve Jobs, Apple's CEO and chief showman, pulled an iPhonefrom his jeans pocket at the annual Macworld conference and drew a standing ovation at the end of his speech.

$ 499. Will
you buy it?


E - Revolution 2005:
A Two-day IT conclave

Assembly Elections - 2005

Turbans

Chandigarh is 50

EARLIER FEATURES
Bodies of four children found from Brar's mill
January 10, 2007
Humane rehab policy soon
January 9, 2007
CPM cadres raid Nandigram
January 8, 2007
Day Two: ULFA guns down 26
January 7, 2007
Nithari: Mulayam announces CBI probe
January 6, 2007
Noida killings: UP forms SIT
January 5, 2007
Noida killings: 2 SPs suspended, 6 cops fired
January 4, 2007
15 skeletons identified
January 3, 2007
Pitched battles in Nithari
January 2, 2007
Nithari on boil amid revenge cries
January 1, 2007