PUNJAB

HARYANA

JAMMU & KASHMIR

HIMACHAL

REGIONAL BRIEFS

NATION

OPINIONS

MAILBAG

BUSINESS

SPORTS

WORLD


Every Wednesday and Friday

Dug-up road, problems galore
Residents suffer as MC fails to wake up
Jalandhar, July 3
More than three months have passed since officials of the municipal corporation dug up a large stretch of road in Mota Singh Nagar here for construction of a drain, but the road has not been relaid, much to the inconvenience of the residents and shopkeepers. Owing to the lackadaisical attitude of the MC officials, who appeared to have turned a blind eye to the problem, area residents and shopkeepers see no end to their miseries.


| | |
| --- | --- |
| | Miseries have multiplied with coming of the monsoon. — A Tribune photograph |
Killer stretch: Here cattle are the biggest threat
Jalandhar, July 3
It's surely a killer stretch. According to estimates, the half-a-km road between Transport Nagar and Bhagat Singh Colony Chowk on Delhi-Amritsar national highway 1, claims nearly 5 lives every month. And in most of the cases, it's the stray cattle which cause fatal collisions.
Overtake heavy vehicles carefully
When placed behind a large vehicle/lorry, drop back so that you can see and plan ahead. Large vehicles blocking your view can be potentially dangerous. If you plan to overtake a large vehicle, make sure you have sufficient space to complete the manoeuvre considering its length. Don't take risk. When in doubt, chicken out!!

An Eve's Jewel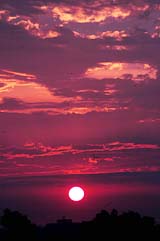 The Tribune lensman captures the ethereal beauty of nature in Jalandhar on Tuesday. — Tribune photo by Pawan Sharma



June 29, 2007

June 22, 2007

June 20, 2007

June 15, 2007

June 13, 2007

June 8, 2007

June 6, 2007

June 1, 2007

May 30, 2007

May 25, 2007

May 23, 2007

May 18, 2007

May 16, 2007

May 11, 2007

May 9, 2007

May 4, 2007