ART & LITERATURE

'ART & SOUL
ENTERTAINMENT

TELEVISION

GARDEN LIFE

NATURE

FOOD TALK

CONSUMER RIGHTS

HOLLYWOOD HUES

BRIDGE

ULTA-PULTA
EARLIER FEATURE

TRAVEL

RELATIONSHIPS

DREAM THEME

TIME OFF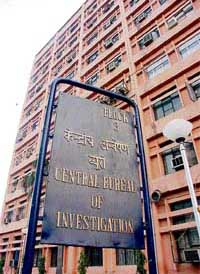 CBI: The Naked Truth
An Insider's Account
Former Joint Director, CBI, B.R. Lall bares the working of the premier investigative agency and reveals the mindset of officials who hesitate to touch the political masters and take action against them. The rule of law does not apply to those who are supposed to enforce it. Some of the scams that rocked the nation—the Jain Hawala case, the Jharkhand Mukti Morcha affair that rocked the PV Narasimha Rao government, the Lakhubhai Pathak deal, the Indian Bank scandal and the fodder scam — all prove how the investigations were thwarted and those in power allowed to go scot-free.


The Jain Hawala Case
JMM affair
Lakhubhai Pathak deal
Indian Bank Scam — Tribune photo by Mukesh Aggarwal
Fodder scam
No rules for the high and mighty
Dalip Singh: A life in struggle
Despite being cut off from his heritage and cultural roots early in life, Maharaja Dalip Singh continued his struggle against the British.
Kanwarjit Singh Kang on lesser-known aspects of Dalip Singh's life.
Not many may be aware of the peculiar circumstances that conditioned the struggle of Maharaja Dalip Singh, the son and successor to Maharaja Ranjit Singh, against the British.
Where life imitates art
A perfect blend of style and substance. From museums and picture postcard countryside to choicest food and wine, the French Riviera offers many of life's little pleasures finds out Gayatri Rajwade
Femme fatale and much else
Actress Barbara Stanwyck, whose birth centenary falls on July 16, was good at playing the victim and the victimiser with equal ease, writes Vikramdeep Johal
Folk's the way to go
Bollywood film songs infused with loads of folk music are an instant hit with GenX, says Sonali Jha Chatterjee
Her voice lives on
M.L. Dhawan remembers the singing sensation of yesteryear Geeta Dutt whose appeal has not declined for the present generation
Dia goes off beat
Bollywood beauty Dia Mirza is all set to go off beat with national award winning director Manmohan Mahapatra's Bits and Pieces where she stars opposite Rahul Bose. "I am stepping into art films with Bits and Pieces. The film will see me in a different light," Dia said at a promotional event.
Fiat rides again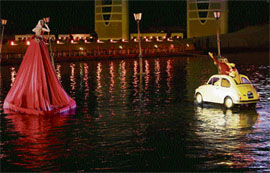 Old Fiat 500 car — a tribute to Italian film director Federico Fellini's movie La Dolce Vita — is seen during a ceremony in Turin, Italy. Fiat CEO Sergio Marchionne has big aspirations for the little car, hoping the redesigned version of the compact vehicle can be for the automaker what iPod was for Apple. — AP/PTI
SOCIETY
Net profit
Free textbooks
Frederick Noronha
Obtaining free school textbooks via the Internet has increasingly become a realistic possibility, with many easy-to-share resources growing in cyberspace. There have been global debates over the rapidly rising textbook prices with responses from teachers, students, schools and governments.
Take this pill and don't bother to eat
Scientists have developed a pill which, when taken, makes the person feel like he has eaten a good meal. The pill made from cellulose has a highly absorbent powder that expands 1000 times when taken with water.
Yawn and remain cool
Latest research shows that yawning helps in keeping the brain cool, contradicting the popular belief that yawning promotes sleep and is a sign of tiredness. Yawning involves opening the mouth involuntarily while taking a long, deep breath of air. It is commonly believed that people yawn as a result of drowsiness or weariness because they need oxygen.