ART & LITERATURE

'ART & SOUL
ENTERTAINMENT

TELEVISION

GARDEN LIFE

NATURE

FOOD TALK

CONSUMER RIGHTS

HOLLYWOOD HUES

BRIDGE

ULTA-PULTA
EARLIER FEATURE

TRAVEL

RELATIONSHIPS

DREAM THEME

TIME OFF

Clubs battle spades
Reviving Ram Bagh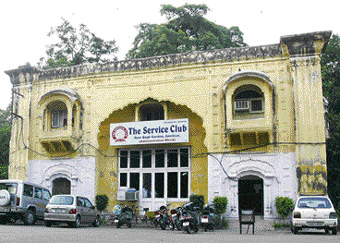 Recently, a government order for the eviction of three clubs on the premises of Ram Bagh in Amritsar was passed because the Company Bagh, as it is popularly called, is a heritage property. This has stirred a hornet's nest since the clubs have been an important part of the social life in the region. Varinder Walia looks at the ongoing tussle
The heritage building in Ram Bagh where The Service Club is located. — Photos by Rajiv Sharma

Centres of community life
V.N. Datta gives a different view of the evolution of the clubs
Originally, the beautiful public garden (now called Ram Bagh) marks the site of a mud fort, the stronghold of the Bhangian misl. The grounds were encircled by masonry walls some 14-feet high, and a rampart carrying guns, while outside the wall, was a moat filled with water from the Hasli canal.
Walking with the Buddha
Ngong Ping on the scenic Lantau Island is a careful recreation of a period Chinese village, which offers market-driven tourism with old-world charm, writes
Tanushree Podder
One more from Van Gogh
Art historians had known of the Van Gogh drawing, stored at the Van Gogh Museum in Amsterdam. But they had always wondered whether it was a copy of a completed painting. Now, at last, the painting itself has been discovered concealed under another painting in the Museum of Fine Arts in Boston, the Van Gogh Museum said.
Birthday bash for tigers
It was a birthday bash with a difference. Three white tigers, Rishi, Sitesh and Prachi, who turned three recently, had a memorable day at Nandankanan Zoological Park in Bhubaneswar, complete with a cake-cutting ceremony.
Driving licence for bullock-carts
Men in the kitchen
Male roles in Hindi films have undergone a change. In many a recent film, men appear as cooks and gladly so. Shoma A. Chatterji looks at how filmi heroes are donning the apron
India comes alive in Hollywood
India is showcasing its developments in independent cinema, arts, technology, business and spirituality to Hollywood. India Splendor, a unique festival running from August 10 to 15, will convey the progresses the country has made in these fields to the Hollywood beat.
Vidya's new look
After Karisma Kapoor and Urmila Matondkar's makeover in Raja Hindustani and Rangeela respectively, it's now time for plain Jane Vidya Balan to turn glam. Ever since her debut film Parineeta and until recently in Lage Raho Munnabhai and Eklavya, Vidya Balan has always portayed a simple Indian girl-next-door look.
SOCIETY
Bond with the blind
Darshini has an all-women team of 75 volunteers. Despite the fact that none of them is specially trained to deal with visually-challenged students, the women have become an irreplaceable part of their students' lives, writes Hema Vijay
With blessings from Ravana
Ravana, the mythological demon king, is generally remembered as an embodiment of evil. But for residents of Madhya Pradesh's Khonpura village, their 45- foot Ravana idol is a god. Built in the village's open ground, the Ravana idol is said to be 250-300- years-old.
Electric moves
Two MIT students of Washington claim to have developed a new technology that transforms energy generated by human movement, such as walking or jumping in crowded settings, into electricity.