When Shilpa Shetty met Govardhan Brown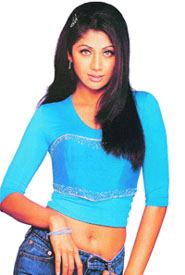 We the people are comfortable in our skins and going out to conquer the world with a chak de exuberance. The year is a watershed because it marks the coming of age of a nation which has become secure and comfortable in its maturity, writes Pratik Kanjilal
This is the first day of Resolution Week. The last week of December is when we look back on the year that is about to pass, smile languidly as we recall our finest moments, sigh maudlinly as we dwell upon what we might have done and been and turn beetroot red at the memory of what we actually did and had been. No more of that, we exclaim, sweeping the debris of the past aside with a small cry. Reaching for pencil, paper and steely resolve, we proceed in all seriousness to make our New Year's resolutions.
Fair way to make waves
There were many proud moments for women who have made a mark in all spheres — from politics to business to economics and administration, writes Vimla Patil
Yet another year of the new century is about to close in a few days, and, as usual, observers of the social and economic scene in India are busy wrapping up the year's gains and losses—especially for Indian women, who most certainly form one of the fastest changing communities in the world today.
Celebratory fare
Flavours of festivity
Every family has a special dish that is cooked to mark special moments.
Pushpesh Pant on festive food
There is no greater joy than sharing good food with family and friends and even with rank strangers at times. And it goes without saying that life is full of events to celebrate something or the other – occasions when the food has to be extraordinary. Be it a childbirth, engagement or marriage, house warming or promotion, an award or anything else – khane wale ko badhia khane ka bahana chahia.
Art Scene '07
Few splashes of colour in a dull picture
The Indian art biggies continued to fetch a good price for their work, but for the regular artist the canvas remains far from bright, says Ravi Bhatia
The year 2007 has in the true sense been a mixed canvas for the art scene. While creations of Indian artists have continued to fetch huge amounts in international art auctions, the average Indian artist continues to struggle to eke out a living waiting for that corporate sponsorship or industrial backing that would pivot him to fame and affluence.
A patchy show
Hindi cinema rarely rose to great heights in 2007, though there were some box-office successes like Chak De! India and Jab We Met, writes Vikramdeep Johal
Bad first half, good second half, above average overall — that was how 2007 turned out to be for Bollywood. After the boom of 2006, which delivered three blockbusters — Lage Raho Munnabhai, Krrish and Dhoom:2 — this year produced merely one, Farah Khan's Om Shanti Om.