PUNJAB
HARYANA
JAMMU & KASHMIR
HIMACHAL
REGIONAL BRIEFS
NATION
OPINIONS
LETTERS
BUSINESS
SPORTS
WORLD
Friday, April 23, 2010, Chandigarh, India
Updated at 3:00 am (IST)

Modi grilled third time, it is BCCI's turn today
IPL chief may move court against Monday meeting
Mumbai/Delhi, April 22
Officials of the Income Tax department and the Enforcement Directorate questioned IPL chairman Lalit Modi for the second day today. Modi, who was grilled late into the night yesterday, was subjected to another round of questioning from this morning, according to sources.


Rajasthan govt mulls action against Modi

Editorial: Crossed wires over IPL

Nation Page: IPL Mess: NCP in a defensive mode
A Tribune Exclusive
We've done a bloody good job, says Omar

Jammu, April 22
His state — Jammu and Kashmir — may be the most difficult and sensitive to administer. But India's youngest Chief Minister Omar Abdullah, who is now 15 months in the saddle, says: "Under the circumstances, my government has done a bloody good job."
J&K Chief Minister Omar Abdullah

Excerpts from Omar Abdullah's interview with The Tribune Editor-in-Chief

CAST YOUR VOTE
Should politicians be allowed to withdraw so-called vendetta cases against MLAs?

EDUCATION
JOBS & CAREERS
HEALTH & FITNESS
SCIENCE & TECHNOLOGY
REAL ESTATE

SPORTS & WELLNESS
Third Front to corner govt on fuel price
New Delhi, April 22
On April 27, the Left-led grouping of 13 non-Congress, non-BJP parties will move cut motions against the rise in prices of petrol, diesel and fertilizers (announced in the budget) and push for voting on these motions. The latter hasn't happened in seven years.
Delhi blasts: Death for 3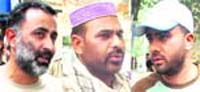 New Delhi, April 22
A Delhi court today awarded death penalty to three of the six terrorists of the Jammu Kashmir Islamic Front (JKIF) convicted for Lajpat Nagar blasts in 1996.
Gallows for (L to R) Mohd Ali Bhatt, Mohd Naushad and Mirza Hussain.
UNION BUDGET 2010-11
RAILWAY BUDGET
2010-11
NDA 60 Glorious Years
1857 The First Challenge
E - Revolution 2005:
A Two-day IT conclave
Assembly Elections - 2005
Turbans
Chandigarh is 50
125 Years of The Tribune
India: The Tasks Ahead
India at Sixty
A Tribune Supplement
EARLIER FEATURES
On Sundays
On Saturdays
SAARC Summit
PM-Gilani meet likely in Bhutan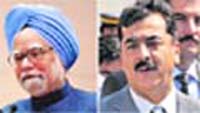 New Delhi, April 22
A substantive meeting between Prime Minister Manmohan Singh and his Pakistani counterpart Yousuf Raza Gilani on the margins of the 16th SAARC Summit in Bhutan.

Manmohan Singh, (R) Yousuf Raza Gilani
Private contractor developing Saras: Report
DGCA report into prototype's crash slams National Aerospace Laboratory
Bangalore, April 22
The Directorate General of Civil Aviation's (DGCA) report into the crash of the Saras prototype aircraft during a March 2009 test flight has found fault with the project's management and work practices of its developers, the National Aerospace Laboratory here. Apart from design changes, the report has asked the laboratory not to employ private contractors for designing the country's first civil aeroplane.
Punjab BJP leader's kin flout PNDT Act
Chandigarh, April 22
A special team of the Punjab Health Department has supervised the registration of cases under the PNDT (Pre-Natal Diagnostic Techniques) Act against two private hospitals in Batala and sealed another one. Doctors in all three hospitals are close relatives and associates of BJP chief parliamentary secretary (CPS) Jagdish Sahni.
Taxmen raid IPL franchisees
April 22, 2010
Modi inches closer to exit
April 21, 2010
IPL guilty won't be spared: Pranab
April 20, 2010
Tharoor quits post & pal Sunanda franchise
April 19, 2010
Just before IPL match, blasts in Bangalore
April 18, 2010
BRIC wants greater role for India, Brazil in UNSC
April 17, 2010

Finally, PSEB is history
April 16, 2010

PM: Talks with Pak only after action against 26/11 culprits
April 15, 2010
Zero-tolerance for illicit N-trade: PM
April 14, 2010