PUNJAB
HARYANA
JAMMU & KASHMIR
HIMACHAL
REGIONAL BRIEFS
NATION
OPINIONS
LETTERS
BUSINESS
SPORTS
WORLD
Sunday, May 16, 2010, Chandigarh, India
Updated at 3:00 am (IST)

Jihadis camping in PoK to sneak into India
Most activities concentrated in Neelum valley along LoC
Islamabad, May 15
Militants have regrouped in large numbers in Pakistan-occupied Kashmir and are waiting to cross the Line of Control to sneak into the Indian side of the Himalayan region, residents and politicians have said.
Jihadi activities have restarted during the last few weeks… The (gathered) men are not locals — they have long hair and beards. Most do not speak the local language"

— Arif Shahid, All Parties National Alliance leader
Shekhawat passes away
Jaipur, May 15


Former Vice-President and Rajasthan ex-Chief Minister Bhairon Singh Shekhawat passed away here today after prolonged illness. He was 86. Suffering from lung and chest infection, Shekhawat was admitted to the Sawai Man Singh Hospital a couple of days ago.
Bhairon Singh Shekhawat (1923-2010)

Nation Page: Sangh loses popular face

Condolences pour in
CAST YOUR VOTE
Should the execution of Ajmal Kasab's death sentence be put on fast track?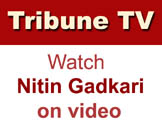 EDUCATION
JOBS & CAREERS
HEALTH & FITNESS
SCIENCE & TECHNOLOGY
REAL ESTATE

SPORTS & WELLNESS
Modi files 12,000-page reply to BCCI


Mumbai, May 15
Suspended IPL commissioner Lalit Modi today responded to the first show-cause notice served on him for alleged financial irregularities with a staggering 12,000-page reply that was carried into the BCCI headquarters in six large cartons.

Lalit Modi: Fires a salvo
MCI's 54-year run ends
Replaced by six-member panel headed by SK Sarin
New Delhi, May 15
Scam-hit Medical Council of India's 54-year run ended today, with the President signing the ordinance to dissolve it and hand over its affairs to a six-member Board of Governors (BoG).
UNION BUDGET 2010-11
RAILWAY BUDGET
2010-11
NDA 60 Glorious Years
1857 The First Challenge
E - Revolution 2005:
A Two-day IT conclave
Assembly Elections - 2005
Turbans
Chandigarh is 50
125 Years of The Tribune
India: The Tasks Ahead
India at Sixty
A Tribune Supplement
EARLIER FEATURES
On Sundays
On Saturdays
US not keen on social security pact with India
New Delhi, May 15
Even as India and the US continue to work towards building cooperation in diverse fields, Washington has shown reluctance to enter into a social security arrangement with New Delhi under which temporary Indian workers in the US would not have to pay social security taxes.
ISSF World Cup
Indian shooters harassed by organisers
New Delhi, May 15
In a shocking incident, the Indian shooting contingent was harassed by the organisers of the ISSF World Cup in Dorset, UK, which forced team manager M Padmanabhan to shoot off a letter to the High Commission in London. In his letter, Padmanabhan brought to light the frequent harassment the shooters encountered. (Details on Nation page)


Super 30 comes calling to Punjab
Entrance test for IIT aspirants on June 5


Chandigarh, May 15
It is a lifetime opportunity for the underprivileged from Punjab, who will go to the Ramanujan School of Mathematics (RSM), Patna, this year for coaching in preparing for the IIT entrance examination this year.

Super-30 founder Anand Kumar: Messiah for talented poor

3 Pakistani aides of NY bomb plotter held
May 15, 2010
Centre clears decks for first defence varsity
May 14, 2010
India should not hold talks with Pak: BJP chief
May 13, 2010
Krishna to visit Pak
May 12, 2010
Higher Education Bill hits a bump
May 11, 2010
Chhattisgarh forests death traps: Police
May 10, 2010
BJP wins power tussle
May 9, 2010
Mukesh wins gas battle against Anil in SC
May 8, 2010
Gallows for Kasab
May 7, 2010
No lie detector tests: SC
May 6, 2010