PUNJAB
HARYANA
JAMMU & KASHMIR
HIMACHAL
REGIONAL BRIEFS
NATION
OPINIONS
LETTERS
BUSINESS
SPORTS
WORLD
Sunday, September 5, 2010, Chandigarh, India
Updated at 3:00 am (IST)

Nitish offers safe passage to Maoists for dialogue
Rebels feel the heat, offer to free hostages today
Patna, September 4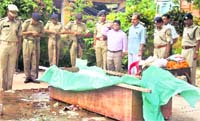 Thirty-six hours after the expiry of the Maoists' second deadline, the fate of the three abducted policemen held captive by the rebels hung in balance on Saturday evening.

Cops give a guard of honour to the ASI Lucas Tete. — PTI
Maoists turn to China to get Prachanda elected
Kathmandu, September 4
Ahead of the key polls for Nepal's new

premier, Maoists have landed in a controversy as a wiretap alleged that the party had sought Rs 50 crore from China to "buy" lawmakers to get their supremo elected to the coveted post after five rounds of voting failed to produce a winner.
Both Prachanda (above) and Nepali Congress Vice-President Ramchandra Poudyal had been rejected in the previous five rounds of voting in Parliament for the post of Prime Minister.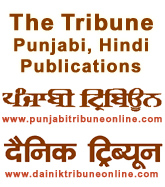 EDUCATION
JOBS & CAREERS
HEALTH & FITNESS
SCIENCE & TECHNOLOGY
REAL ESTATE

SPORTS & WELLNESS
'Govt's anti-Naxal policy weak'
New Delhi, September 4
For the seven years that Kishore Kumar Verma has been principal of a leading government school in Lohardaga, one of the country's worst affected Naxal districts, he has not faced problems teaching children. No Maoist cadre has so far threatened to raze his school located in one of Jharkhand's Fifth Schedule areas (listed under the Constitution as an extremely backward forest and tribal land) but he has once received a death threat by Naxals.
PC admits to presence of CPM's armed camps
Asks WB govt to dismantle structures immediately
Kolkata, September 4


The controversy over the presence of the CPM's armed camps in the Jangalmahal and Lalghar area took a new turn following the admission of the union home minister P.Chidambaram about the existence of these camps in the Maoists-inflected areas in west Midnapore.
S Asian varsity becomes operational
New Delhi, September 4
With the visa issue concerning Pakistani students having been settled, the South Asian University (SAU), a dream project of Prime Minister Manmohan Singh, has finally taken off. The university launched its first academic session on August 26, starting two courses-MA in Development Economics and Masters of Computer applications.
UNION BUDGET 2010-11
RAILWAY BUDGET
2010-11

NDA 60 Glorious Years
1857 The First Challenge
E - Revolution 2005:
A Two-day IT conclave
Assembly Elections - 2005
Turbans
Chandigarh is 50
125 Years of The Tribune
India: The Tasks Ahead
India at Sixty
A Tribune Supplement
EARLIER FEATURES
On Sundays
On Saturdays
Money yes, but not for 'fixing'
'It was for sponsorship deals'
Islamabad, September 4
Three Pakistani cricketers — captain Salman Butt and pacers Mohammad Asif and Mohammad Aamir— under the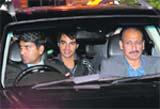 scanner for spot-fixing, have reportedly admitted before the Scotland Yard inquiry that the British currency recovered from their hotel rooms was given to them by bookie Mazhar Majeed.
Pakistan's captain Salman Butt (C) leaves a police station after being questioned by cops in London. — AFP

Sports page: PCB threatens to sue ICC
Pressure on Rahman to rejig CWG theme song


New Delhi, September 4
Oscar-winning composer AR Rahman might rejig the composition of his Commonwealth Games theme song, Yaro India Bula Liya, which has received more criticism than applause since he unveiled it a week ago. CWG Organising Committee (OC) sources said Rahman had been told about the general disappointment his theme song had received. The ace composer, who had claimed the song would be better than Shakira'a Waka Waka, the much-acclaimed theme song for the Fifa World Cup this year, is also disappointed with the thumbs down and could go for a revamp, they said.
Tension mounts as Naxals kill cop
September 4, 2010
Sonia set for 4th term
September 3, 2010
Sibal blames bad floor management
September 2, 2010
SC raps Pawar, says ruling was an order
September 1, 2010
More muck flies off match-fixing scam
August 31, 2010
CRICKET SHAMED AGAIN
August 30, 2010
Jet crew suspended for serious lapses
August 29, 2010
LS plugs forex flow for religious conversions
August 28, 2010
Direct Taxes Code Bill gets Cabinet nod
August 27, 2010
With 'intent' clear, nuke Bill passed
August 26, 2010