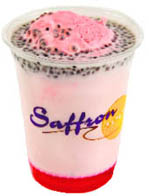 Pan-Indian
platter
Kinjal Dagli-Shah
Meet Indian masterchefs who have cooked up some sweet American deals …
AN icecream maker on sale was all it took for Smita Vasant to embark on a journey that has only brought her sweet deals. After 15 years in the health insurance industry, the mother of two decided to venture into unchartered territory: making icecreams.

Tadka trial on the tube
Chetna Keer Banerjee
Gourmets from the region make their mark amid a confluence of culinary skills
WHEN the main course has for long been loaded with the spice of song, sizzle and slugfests (slut-fests, too, have made it to the daily menu, thanks to Rakhi-aided activism and other 'show' stoppers), it may be refreshing for reality TV viewers to get to see sizzlers, literally.

Daddy cool
There can be risks — both physical and mental — associated with fathering an offspring later in life. The older a man is, the longer it may take his partner to conceive, regardless of her age, writes Witty Raina
A guy when approached for marriage in mid-twenties generally gets irritated. His aspirations and freedom seems to be at stake for him at this age. Carrying a cool dude impression, his view on marriage and parenting comes after he crosses 30.

On tiger trail
I

ndian

experts have discovered that it is possible to accurately predict the number of tigers in the wild by monitoring both paw prints and faeces. "Tigers are cryptic, nocturnal and occur at low densities so they are extremely difficult to monitor.

Health package, the best gift
Wondering what to gift your spouse this birthday, or your parents on their wedding anniversary? Buy them good health checkup packages to ensure they have a healthy life.

A dash of medieval magic
During a trip to Europe, Swati Sengupta gets enchanted by Estonian capital Tallinn's old-world charm
TALLINN — if you think that it may be in some God-forsaken part of the world, with a handful of adventurous backpackers and its locals speaking a weird dialect, think again.

'Reality' behind Rakhi's success
With Rakhi Ka Insaaf vying for top ratings, the show is lapping at the heels of popular programmes like Kaun Banega Crorepati, Masterchef India and Big Boss-4, writes Archana Pareek
SHE is controversy's favourite child. Scoffed at by her own fraternity, sneered at by high-brow viewers, yet she manages to claw her way to the top every time she is on a television show.

Big brother syndicate
From Ashok Kumar to Dilip Kumar, Feroz Khan to Salman Khan — big brothers have gladly shared the limelight with their younger siblings. By sticking together, brothers have often churned out cinematic marvels, writes Deepa Karmalkar
BROS. Inc. has been a money spinning enterprise in the film industry. Arbaaz Khan's blockbuster production Dabangg is proof enough of the professional advantages of brotherly bonding.