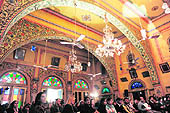 Book lovers assembled in the Darbar Hall of Diggi Palace, Jaipur Photo: AFP

Narratives from the North
Vandana Shukla
Voices from the region found ample expression at the globally recognised Jaipur Literature Festival
WRiTING from the North were heard with rapt attention at the recent DSC Jaipur Literature Festival (JLF). The voices of pain, agony and untold suffering from the Valley reverberated at The Baithak when Kashmiri poetry pierced through the hearts of the audience.
Ashram of high value
Sevagram Ashram in a remote Maharashtra village is a place revered by all. It was here that the dream of Mahatma Gandhi to liberate India from British yoke finally started taking shape, writes Rajendra Rajan
WhAt could have been the temptation for Mahatma Gandhi to settle in Wardha, a remote and backward area of Maharashtra, about eight decades ago? I was trying to grapple with this question while standing on the road leading to the main entrance gate of Sevagram Ashram recently. The place is 60 km from Nagpur.
The beautiful island
Culture, cuisine, beauty and shopping, Taiwan has it all, writes Tanushree Podder
LIKE most travellers to Taiwan, I was looking forward to shopping, sampling the delectable food of the region and catching a bit of art and culture but I landed up doing much more.
Foodies' delight
Good news for those who are addicted to cookery shows on television. FoodFood, the first ever food channel, has been launched by celebrity chef Chef Sanjeev Kapoor and Raghavendra Madhav of Astro All Asia Networks.
Positive effects of stress
A new study explains why stress and anxiety may be both a boon as well as a bane for your brain. "That edge sounds good. It sounds adaptive. It sounds like perception is enhanced and that it can keep you safe in the face of danger," said Alexander Shackman, a researcher at the University of Wisconsin-Madison.
Season for overcoats
As the Capital goes through one of its coldest winters, many are discovering the charms of the overcoat, an accessory once consigned to the bottom of cupboards and pulled out only for hilly holidays or snowcapped destinations abroad.
'Parents must expose kids to Indian culture'
IN this age, when computers and playstations lure kids more than learning music and dance, parents must take the onus of motivating the conventional activities to expose children to Indian culture, says violin maestro L. Subramanian.
Kiran calls the shots
People will be disappointed if they go to watch Aamir in Dhobi Ghat because his is not an author-backed role, says Kiran Rao in a chat with Jyothi Venkatesh
How did you cast newcomers like Kriti Malhotra and Monica Dogra in Dhobi Ghat?
Monica is a versatile singer, who is part of the band Shaayar and Funk. I decided to cast Monica after I saw her with her partner on the cover of the magazine Time Out Mumbai.