COLUMNS



THIS ABOVE ALL

TELEPROMPT

GOOD MOTORING

LIFE'S LESSONS

LEXICON

NETWATCH

FOR CHILDREN



CROSSWORD

RHYME TIME
Earlier Feature


TELEVISTA


AUDIO SCAN
Guru-shishya paramapara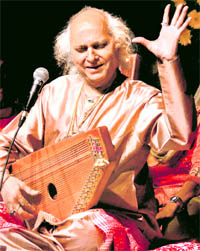 Nonika Singh explores the tradition that is not only unique, sacred and inimitable but also one whose resilience or significance can never be undermined
In the Indian context, especially in the world of classical tradition, however, the debt of gratitude that students owe their teachers goes way beyond ordinary mortals understand the teacher-taught relationship. Considered the backbone of classical tradition, the guru-shishya paramapara is not only unique, sacred and inimitable but also one whose resilience or significance can never be undermined.

According to Pt Jasraj, a guru canít demand respect; he has to command it with his conduct. Photo: S. Chandan

Shahid kapoor comes of age
Surekha Kadapa-Bose in conversation with Shahid Kapoor, the chocolate boy of Hindi cinema, who has come a long way after films like Jab We Met and Kaminey
What made him stand apart from his other colleagues in the film industry was his chocolate face and baby looks. When all of 17 years of age, he jumped up in a van with Shah Rukh Khan; danced with Rani Mukherjee and rode away on a bike with Kajol, all in one advertisement for Pepsi, in 1998. No one thought that this teenager would be a phenomenon that he has become today. At that time very few also knew that he is Shahid Kapoor, the son of senior and gifted actor, Pankaj Kapur.
Dress for less
You can save money by not going in for every trend that comes along. You need style that is fashionable and stays in the budget, says Marjorie Menon
If you are like me, scanning the latest fashion magazines and hoping to gain some practical style tips, you may find yourself more confused than ever. Often, their practical style tips pertain to someone definitely in a higher tax bracket. What should a girl do when she needs to dress for less?