Record win for U'khand CM in Sitarganj bypoll
With Vijay Bahuguna's victory, Cong ups tally in Assembly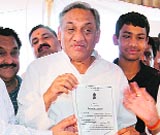 Dehradun, July 11
Uttarakhand Chief Minister Vijay Bahuguna has won the Sitarganj Assembly byelection by a record margin of 39,954 votes, defeating his nearest BJP rival Parkash Pant.


Uttarakhand CM Vijay Bahuguna with the election certificate after his victory.

SC stays Sajjan's trial in '84 riots case


New Delhi, July 11
The Supreme Court today stayed till July 27 the trial of Congress leader Sajjan Kumar in a 1984 anti-Sikh riots case, but requested the Delhi HC to quickly dispose of Kumar's plea to cross-examine a key witness. An SC bench stayed the trial proceedings after senior counsel UU Lalit, appearing for Kumar, said the HC had restrained the trial court from pronouncing the verdict till July 27, but refused the plea for a stay.

India investment-friendly, PM assures Singapore
New Delhi, July 11
Prime Minister Manmohan Singh today assured his Singapore counterpart Lee Hsien Loong of India's commitment to reinforce its status as an investment-friendly destination as the two countries signed three accords, including one for the conduct of joint military training and exercises in India.



Business page: Singapore seeks stepped up Indian investments, trade