LIFE+STYLE

CHANDIGARH

LUDHIANA

BATHINDA

JALANDHAR

AMRITSAR TRIBUNE

JALANDHAR TRIBUNE

BATHINDA TRIBUNE

JAMMU TRIBUNE

KASHMIR TRIBUNE

DELHI

DEHRADUN

DEHRADUN PLUS
Pak troops continue to target Drass, Kaksar in Kargil
Jammu, August 17
Pakistani troops opened fire last night on Indian forward posts along the Line of Control (LoC) in Drass and Kaksar areas of the Kargil sector in Ladakh region even as there has been no let up in heavy exchange of fire in Hamirpur and Mendhar areas along the de-facto border in Poonch district.
No repeat of 1991-like economic crisis, says PM
New Delhi, August 17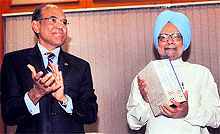 Prime Minister Manmohan Singh today dismissed the possibility of a throwback to the 1991 balance of payments crisis situation in the economy.
PM Manmohan Singh releases the fourth volume of book "RBI History - Looking Back and Looking Ahead" in New Delhi on Saturday. RBI Governor D Subbarao is also seen in the picture. PTI


Keep spectrum auction base price low or face higher call charges: Telecom operators
New Delhi, August 17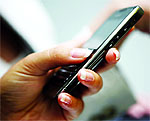 The next round of spectrum auction approaching fast, telecom operators have again started clamouring for keeping the base price for the auction low which would allow them to participate and also provide some revenue to the national exchequer.
OTHER PAGES

HARYANA: Congress leaders for quick call on state leadership issue


HIMACHAL: NSUI dominates HPU polls


CHANDIGARH: MC splurges on study tours


LUDHIANA: A brother's gift to sister — bone marrow


DELHI: Congress tells block, district committees to work in tandem


Business:

Commodities' regulator okays NSEL settlement plan

OPINION: Inviting foreign investors at cost of own

SPORTS: Lightning strikes twice

WORLD: Forces storm protesters-held mosque in Cairo


Lahore Log

The tribune guide to best colleges

Budget
2013-14

INDIA CHINA WAR 50 YEAR LATER

YEAREND SPECIAL: 2012

Year of survival

The tribune 130 years
a witness to history
book released by prime minister manmohan singh

Guide to best colleges

Results of Punjab Assembly Polls 2012

HIMACHAL VOTES 2012

EARLIER FEATURES
Durga claims innocence
Lucknow, August 17
Suspended IAS officer Durga Shakti Nagpal has reportedly pleaded not guilty to charges of "poor administrative acumen and lack of foresight" into the demolition of the wall of a mosque at Kadalpur village in Gautam Buddha Nagar. In her reply to the chargesheet served by the Uttar Pradesh Government, she said she had carried out her duty to the best of her ability and sought her suspension order revoked.
Trivedi is new CRPF chief
New Delhi, August 17
Dilip Trivedi, an Indian Police Service (IPS) officer of the 1978 batch of the Uttar Pradesh cadre, has taken over as the new Director General of the Central Reserve Police Force (CRPF). Trivedi was accorded the ceremonial guard of honour at the CRPF Directorate in Delhi today.
Yes, Makhan pipped Milkha in 21st national games: Govt
Question raised in Parliament on Hoshiarpur sprinter, who died unsung in penury in 2002
New Delhi, August 17
Call it pure providence or just the way Indian system functions but Makhan Singh, an athlete who won a 400-meter race by defeating legendary sprinter Milkha Singh, died unsung in penury in 2002, leaving behind a family who is struggling to survive more than 10 years down the line. While Milkha Singh's life was celebrated by the Bollywood in the film "Bhaag Milkha Bhaag", Rajya Sabha MP Avinash Rai Khanna, who raised a question on financial assistance to family of Makhan Singh in Parliament last week, wonders whether the story of the bright track and field athlete from the Hoshiarpur district in Punjab, would inspire the government to ensure some permanent measure to pull his family out of despair.

Capital control fears trigger stock market plunge, steep fall in Re
August 17, 2013
Explosions sink sub off Mumbai; 18 dead
August 15, 2013
Pakistan Assembly passes anti-India resolution
August 14, 2013
J&K minister quits, protests continue
August 13, 2013
Curfew in 5 more J-K districts
August 12, 2013
Kishtwar violence spreads to Jammu, Rajouri areas
August 11, 2013
US pulls out diplomats from Lahore over terror threat
August 10, 2013
Antony now says Pak Army did it
August 9, 2013
Furore in Parliament over Antony's 'clean chit' to Pak on LoC killings
August 8, 2013