LIFE+STYLE

CHANDIGARH

LUDHIANA

BATHINDA

JALANDHAR

AMRITSAR TRIBUNE

JALANDHAR TRIBUNE

BATHINDA TRIBUNE

JAMMU TRIBUNE

KASHMIR TRIBUNE

DELHI

DEHRADUN

DEHRADUN PLUS
Premature exit for 3 tainted PCS officers
Sword dangles over 14 others for various irregularities, including graft
Chandigarh, August 21
Punjab has prematurely retired three PCS officers, Kiran Rosy, TN Passi and Jai Pal Singh, as punishment for causing loss to state and gross misconduct, including graft. But, this is not the end of the story.
Kabul seeks economic, military aid from India
New Delhi, August 21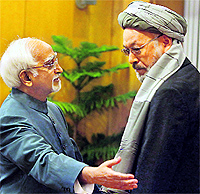 Afghanistan today sought India's economic and military assistance to help the embattled nation stand on its own feet after the drawdown by NATO troops in 2014. Visiting Afghanistan Second Vice-President Mohammad Karim Khalili today held talks with Prime Minister Manmohan Singh.
Vice-President Hamid Ansari with his Afghan counterpart Mohammad Karim Khalili in New Delhi on Wednesday. — PTI

PHONE TAPPING
Tata pleads for panel to examine Radia tapes
New Delhi, August 21
Ratan Tata, who has filed a petition in the Supreme Court seeking protection of people's right to privacy, today sought the setting up of an independent panel to examine the contents of the tapped telephonic conversations corporate lobbyist Niira Radia had with top politicians, bureaucrats and businessmen.


OTHER PAGES

J&K: Kargil under tight security for council elections today


HIMACHAL: Monsoon session starts on stormy note


CHANDIGARH: Mayor leaves office, blames officials


LUDHIANA: Health Director visits civil hospitals, finds shortcomings


DELHI: Cops beat two NE students, make racist remarks


Business:

Bloodbath on D-Street continues

OPINION: Politics over food


NATION: Day after activist's death, M'rashtra okays ordinance against black magic


SPORTS: Put nation above individual interests: Sports Minister

WORLD: Syrian Oppn claims 1,300 killed in chemical attack


Lahore Log

The tribune guide to best colleges

Budget
2013-14

INDIA CHINA WAR 50 YEAR LATER

YEAREND SPECIAL: 2012

Year of survival

The tribune 130 years
a witness to history
book released by prime minister manmohan singh

Guide to best colleges

Results of Punjab Assembly Polls 2012

HIMACHAL VOTES 2012

EARLIER FEATURES
Special to the tribune
Manmohan to meet Obama on September 27
US President Barack Obama will meet Prime Minister Manmohan Singh at the White House on September 27 in a meeting aimed at dispelling a common narrative in Washington and New Delhi that the Indo-US relationship has gone adrift.

Barack Obama


Manmohan Singh


Nation page: US eyes use of Trivandrum airbase

Hooda urges PM to lay stone for Gorakhpur nuke plant project
New Delhi, August 21
The Haryana Government is ready to open the Gorakhpur nuclear power plant in Fatehabad district for construction shortly with the Chief Minister Bhupinder Singh Hooda today meeting Prime Minister Manmohan Singh and inviting him to lay the project stone.

4 Cong states roll out food security plans
August 21, 2013
Train mows down 37 in Bihar
August 20, 2013
Lashkar's Tunda was in touch with ISI
August 19, 2013
Top terrorist Tunda arrested
August 18, 2013
Capital control fears trigger stock market plunge, steep fall in Re
August 17, 2013
Explosions sink sub off Mumbai; 18 dead
August 15, 2013
Pakistan Assembly passes anti-India resolution
August 14, 2013
J&K minister quits, protests continue
August 13, 2013
Curfew in 5 more J-K districts
August 12, 2013
Kishtwar violence spreads to Jammu, Rajouri areas
August 11, 2013