LIFE+STYLE

CHANDIGARH

LUDHIANA

BATHINDA

JALANDHAR

AMRITSAR TRIBUNE

JALANDHAR TRIBUNE

BATHINDA TRIBUNE

JAMMU TRIBUNE

KASHMIR TRIBUNE

DELHI

DEHRADUN

DEHRADUN PLUS

Hooda meets Sonia aide amid talk of new PCC chief
New Delhi, August 23
Haryana Chief Minister Bhupinder Singh Hooda met Congress president Sonia Gandhi's political secretary Ahmed Patel here today amid indications that the decision on the leadership of state Congress would be taken soon. The meeting took place a day after Shakeel Ahmed, Congress general secretary in charge of Haryana, met both Sonia and Congress vice president Rahul Gandhi yesterday.



Haryana page: Rao Inderjit may form new party
One held for photojournalist's gang rape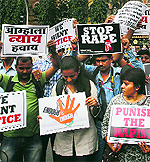 Mumbai, August 23
The police today arrested a jobless youth and was looking for four other suspects, solving within 24 hours last night's gang rape of a photojournalist here amid massive public outrage and protests as it brought back memories of a similar incident in Delhi last year.

Photojournalists stage a protest in Mumbai on Friday. — PTI

OTHER PAGES

PUNJAB: In waterlogged Muktsar, Badal pours scorn on drainage staff


HARYANA: Rao Inderjit may form new party


HIMACHAL: HPCA encroached on college land: Revenue officials


CHANDIGARH: The big catch: 146 in a day


LUDHIANA: MC to act tough against defaulters


DELHI: Take part in politics to change system, Kejriwal to students


Business:

Re snaps 6-day streak of all-time lows

OPINION: Executive asserts itself


NATION: I'm a housewife, have no role in ADAG firms: Tina Ambani


SPORTS: 'Award system leaves a lot to be desired'

WORLD: Car bombs kill 42 at Lebanon mosques


Lahore Log

The tribune guide to best colleges

Budget
2013-14

INDIA CHINA WAR 50 YEAR LATER

YEAREND SPECIAL: 2012

Year of survival

The tribune 130 years
a witness to history
book released by prime minister manmohan singh

Guide to best colleges

Results of Punjab Assembly Polls 2012

HIMACHAL VOTES 2012

EARLIER FEATURES

7 coal files missing, says Jaiswal
New Delhi, August 23
As the BJP-led Opposition blocked the functioning of Parliament over missing files pertaining to coal block allocations, Union Coal Minister Sriprakash Jaiswal today said that his ministry has handed over all important files to the Central Bureau of Investigation (CBI).
Cash crunch: Punjab to mortgage buildings
Move a desperate attempt to raise money for disbursing salaries, pensions
Chandigarh, August 23
Faced with a severe cash-crunch and on the verge of being declared delinquent for its inability to clear its huge overdraft, the Punjab Government has been forced to mortgage its buildings.



Punjab page: Bajwa to raise issue with Pranab
While millions starve, food worth Rs 44,000 cr wasted each year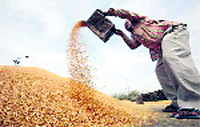 New Delhi, August 23
India, with the largest number of hungry persons in the world, wastes fruits, grains and vegetables worth Rs 44,000 crore every year due to lack of adequate storage infrastructure. Agriculture and Food Processing Industries Minister Sharad Pawar told the Rajya Sabha today that the value of annual wastage of fruits and vegetables was estimated at Rs 13,309 crore.

Govt seeks to negate SC order on convicted lawmakers
August 23, 2013
Chinese troops intrude into Arunachal
August 22, 2013
4 Cong states roll out food security plans
August 21, 2013
Train mows down 37 in Bihar
August 20, 2013
Lashkar's Tunda was in touch with ISI
August 19, 2013
Top terrorist Tunda arrested
August 18, 2013
Capital control fears trigger stock market plunge, steep fall in Re
August 17, 2013
Explosions sink sub off Mumbai; 18 dead
August 15, 2013
Pakistan Assembly passes anti-India resolution
August 14, 2013
J&K minister quits, protests continue
August 13, 2013