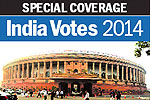 Pepper shame: Meira seeks security review
New Delhi, February 14
Upset over the uproarious scenes and use of pepper spray inside the Lok Sabha, Speaker Meira Kumar today referred the matter to the Committee on Security in Parliament Complex to review arrangements to prevent members from bringing dangerous or life-threatening material into the chamber of the House.
Chill back as snow, rain lash region
Chandigarh, February 14
Whereas a fresh spell of moderate-to-heavy snowfall in upper Shimla, Kinnaur and landlocked Lahaul-Spiti hit normal life in those areas, rain in the plains, especially in most part of Punjab and Haryana, has farmers worried.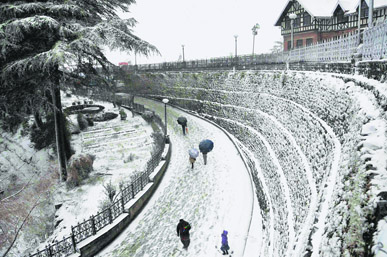 WHITE VALENTINE: A thick blanket of snow covered Shimla on Friday. Tourists thronged the hill station for celebrations. Photo: Amit Kanwar


OTHER PAGES

PUNJAB: After HC order, police vacate Bassi Pathana building


HARYANA: Tanwar takes over as PCC chief


HIMACHAL: Leaders' sons, loyalists make HPCC jumbo-sized


CHANDIGARH: Thieves strike at officers' houses in P'kula


LUDHIANA: Civic body means business


DELHI: Lokpal 'unconstitutional'; AAP says it's in order


OPINIONS: Peppered over


BUSINESS: Inflation cooled to 8-month low of 5.05% in January


SPORTS: Ishant, Shami shoot down the Kiwis

WORLD: Snow returns to US capital



The tribune yearender 2013 : year of corrosion

Lahore Log

The tribune guide to best colleges

Budget
2013-14

INDIA CHINA WAR 50 YEAR LATER

EARLIER FEATURES
Delhi Govt to SC: L-G against DPS Bhullar's execution


New Delhi, February 14
The Delhi Government today informed the Supreme Court that Lieutenant Governor Najeeb Jung had already recommended to President Pranab Mukherjee that the death penalty awarded to Devender Pal Singh Bhullar be reduced to life sentence in view of the convict's mental status.
Construction of Bluestar Memorial an SGPC decision, says Badal
Jalandhar, February 14
Calling SGPC chief Avtar Singh Makkar a liar, Punjab Chief Minister Parkash Singh Badal today said the former had made a false statement that Operation Bluestar Memorial on the Golden Temple complex was constructed on the latter's insistence.



CM had no role: Makkar
Badal's Muktsar gets biggest chunk of fund pie
Bathinda, February 14
Punjab Chief Minister Parkash Singh Badal seems to have taken a strong liking to the proverb, "Charity begins at home". For, Rs 47.13 crore out of the Rs 55-crore grant released by the state government under the Social Infrastructure Development Fund (SIF) scheme have gone to his home district of Muktsar.


While Muktsar got 85% of the total grant, 13 out of 22 districts failed to get even a single penny

Fisticuffs & pepper spray: House hits new low
February 14, 2014
UPA-II spares fares, offers 72 new trains
February 13, 2014
Free-for-all in J&K House; MLA hurt
February 12, 2014
SC panel indicts BCCI chief's son-in-law over IPL betting
February 11, 2014
Foodgrain output set for new high: Pawar
February 10, 2014
AAP refuses to yield on Jan Lokpal Bill, slams Centre
February 9, 2014
Booked for molestation, J&K minister steps down
February 8, 2014
Kejri takes CWG swipe at Cong
February 7, 2014
Communal violence Bill, Telangana rock House
February 6, 2014
UK says it advised India on Bluestar
February 5, 2014