PUNJAB

HARYANA

JAMMU & KASHMIR

HIMACHAL

REGIONAL BRIEFS

NATION

OPINIONS

MAILBAG

BUSINESS

SPORTS

WORLD
Thursday, January 10, 2008, Chandigarh, India
Updated at 3:00 am (IST)

7 Armymen, 8 others buried in avalanches
Srinagar, January 9
At least 15 persons, including seven Army personnel, one of them a JCO, and eight civilian porters have been buried alive in avalanches near the LoC in the Machil and Uri sectors in the past few days.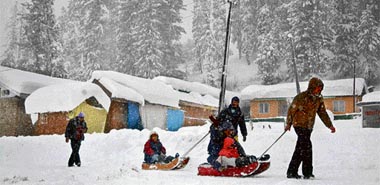 Gulmarg goes six feet under:

Tourists enjoy a sledge ride after the town experienced six feet of snow on Wednesday. — Tribune photo by Amin War
No ban on Indian workers: Malaysia
New Delhi, January 9
Kuala Lumpur today told the Indian government that it had not imposed any ban on the recruitment of Indian workers in Malaysia. Malaysian works minister Samy Vellu, currently in New Delhi to attend the sixth Pravasi Bharatiya Divas, met external affairs minister Pranab Mukherjee this evening.
The smile is back, Hillary wins New Hampshire
Democratic Senator Hillary Rodham Clinton and Republican Senator John McCain won surprising victories in the New Hampshire primaries on Tuesday night keeping alive their chances of becoming their parties' nominees for the presidential election in November.



Editorial: Hillary's comeback

CAST YOUR VOTE
Are you worried about criminalisation of politics?


CHANDIGARH

LUDHIANA

BATHINDA

JALANDHAR

DELHI

HIMACHAL PLUS

HARYANA PLUS

AMRITSAR PLUS

LIFESTYLE

BRIDES WANTED

GROOMS WANTED

OTHERS

HOW TO PLACE ADVTS
SP activist killed in UP firing
Clashes after 'attack' on Mulayam's son, brother
Lucknow, January 9
Samajwadi Party (SP) activists clashed with the police in more than 12 districts across the state killing one person, seriously injuring another and hurting many others when the police opened fire on protesting SP workers in Mulayam Singh Yadav's ancestral village of Saifai in Etawah today.


| | |
| --- | --- |
| | |
| | HARYANA: Govt-funded NGOs covered under RTI Act: Info panel |
| | HIMACHAL: Nine join Dhumal Cabinet |
| | |
| | CHANDIGARH: PHL: Rain can't rein in spirits |
| | LUDHIANA: 50,000 to file IT returns again |
| | DELHI: Court summons Husain |

E - Revolution 2005:
A Two-day IT conclave

Assembly Elections - 2005

Turbans

Chandigarh is 50

125 Years of The Tribune
India: The Tasks Ahead

EARLIER FEATURES
UK scribe raped in Udaipur
Jaipur, January 9
In an alarming trend of Rajasthan becoming unsafe for foreign women tourists, a British journalist was allegedly raped by the owner of a guesthouse in Udaipur and an American tourist molested while offering prayers at a temple in Pushkar.
Bhajan Lal, son face disqualification
New Delhi, January 9
Former Haryana Chief Minister Bhajan Lal and his son Kuldeep Bishnoi, who have raised a banner of revolt against the Congress leadership, face disqualification from the Assembly and Lok Sabha, respectively.
Rain good for rabi crop
Chandigarh, January 9
Farmers as well as farm experts are jubilant as the widespread rainfall in the region for the past 24 hours has revived the hope of a bumper wheat crop in the state this year. Reports of rain have come from all parts of the region.
Body exhumed. Another sex scandal?
Srinagar, January 9
A probe into the mysterious death of a girl, who is said to be a victim of sex racket, has brought back the memories of infamous sex scandal in the valley. The police today exhumed the body of Aliya to determine the cause of her death amidst claims of an NGO, which had made the matter public before her suspicious death, that she was killed.
HOROSCOPE
Billy for Bucknor, Bhajji back
January 9, 2008

Riot in Jalandhar jail
January 8, 2008

Bhajji banned for three Tests
January 7, 2008
Malana burns
January 6, 2008
No N-worry, Musharraf in command: Pranab
January 5, 2008
A crude dilemma for govt
January 4, 2008
Maoist violence continues, 3 killed
January 3, 2008
Day 1: Militants strike in UP, Bihar
January 2, 2008
Pak poll put off to Feb
January 1, 2008
Bilawal gets PPP reins
December 31, 2007
Govt offers to exhume body
December 30, 2007