Patwant Singh and Jyoti M. Rai's book on Maharaja Ranjit Singh reveals different facets of the charismatic founder of the powerful Sikh empire. Excerpts:
| | |
| --- | --- |
| THE administration of Lahore was a model that Ranjit Singh replicated throughout his extensive territories. He was determined to create an administrative system undiluted by religious prejudices, political affiliations, preference for family connections, regional and caste loyalties or countless other pulls and pressures that made a mockery of just governance. Despite the disparate and potentially destructive elements he had to keep in control, he was determined to strengthen his rule not through intimidation or state terror but by providing good governance. | |
'The Renaissance began in China'
Leonardo da Vinci's designs for machines can be traced back to the transfer of Chinese knowledge, says Gavin Menzies in his latest book, writes Tim Castle
Leonardo da Vinci's drawings of machines are uncannily similar to Chinese originals and were undoubtedly derived from them, a British amateur historian says in a newly published book. Gavin Menzies sparked headlines across the globe in 2002 with the claim that Chinese sailors reached America 70 years before Christopher Columbus.
Wrestling for fame
Chandgi Ram Akhara in Delhi is home to about 15 girls between 14 and 20 years. In a world where wrestling has been a male preserve, 'Guruji' wants the girls to make a mark, writes Preeti Verma Lal
IT is a Sunday evening. A frail man on a parked motor cycle beats a drum briskly. There is not much rhythm to the beats but the crowd is milling around Maulana Azad Park, near Jama Masjid, Delhi. An old man with a beard is guarding the green iron gate. He lets people in only after they have dropped Rs 2 into his plastic bag.
Much ado about size zero
Shakuntala Rao
DOES anyone remember Rekha from her early hits of Ganga Ki Saugandh, Khoon Pasina and Aakraman? I do. As a precocious teenager, I enjoyed emulating Rekha's scintillating dance numbers in front of my bedroom mirror, providing a good laugh for my parents and siblings. Rekha came across, in numerous Stardust and Filmfare photo shoots, as the quintessential Indian beauty but no size zero.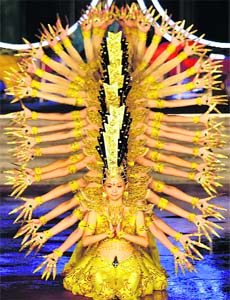 Chinese dancers perform the thousand-hand Avalokitesvara Bodhisattva or Guan Yin, a Chinese goddess, at the Olympic village in Beijing. — Photo by Reuters
In Shiva's abode
While shopping for saris Tanushree Podder discovers the temple town of Maheshwar near Indore
THE gossamer texture of the Maheshwari saris, lauded by the hoi polloi, became a reason behind the visit to an exotic but dusty little town on the banks of Narmada. "Maheshwar is just an hour's drive from here," said an Indore shopkeeper when asked about where the beautiful saris were being made.
Kasauli's changing ambience
Maj Gen Himmat Singh Gill (retd)
IN the fading light on the lower Mall as the mist surrounds the hillside, the hill station of Kasauli finds itself confronted with a noisy and overcrowded present in vivid contrast to the unhurried ambience of a past gone by. The past has all but faded with a few exceptions here and there. It still lives in a painting in the Kasauli Club that shows the first troops that came to Kasauli.
Singh-King feeling
Punjabis on screen have charmed audiences with their exuberance, writes M. L. Dhawan
Whenever a filmmaker has shown a leading man in a turban on the screen, it has always worked wonders. Besides adding to the intrigue, such characters pay a tribute to the gregarious and boisterous Punjabi community. While driving behind a truck on the highway, Akshay Kumar was amused by the slogan "SINGH IS KING" written on its rear panel.
Bengali cinema goes global
Shoma A. Chatterji
Antaheen (eternal) is the title of a Bengali film directed by Aniruddha Roy Choudhury, whose maiden feature Anuranan, won the National Award for the Best Regional Film (Bengali) this year. The film may spell out a different story. But it points out the eternal possibilities of cinema as a universal language with a fluidity that transcends barriers of geography, language, culture and class.
Get set for space wedding
Getting hitched in a 17th-century palace might be all super stylish, but from Japan, comes news of a new wedding venue that will surely score even higher — space. A Japanese wedding company is to provide a service that will allow couples to get married in space.