Flesh trade rackets expose police inaction
Solan, January 13
The exposure of two flesh trade rackets in the district in a span of 10 days has exposed the lack of police action in arresting the trend.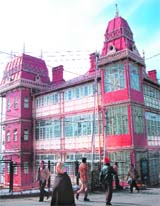 The Railway Board building
vignettes
Sturdiest landmark of Shimla
The Railway Board building on the Mall was raised as secretariat building for the public works department (PWD) in 1884, and even today houses several central government offices but the Railway Board. It was built on the site of Herbert House and Lowville. These houses were purchased and demolished by the government and a beautiful brick and timber structure (architect: Henry Irwin) was erected in their place for the PWD. One J Decrug owning Helene Lodge and Ellingham Villa just below this building had on September 8, 1884, complained to the municipal committee (MC) that the spoil from the excavation of the new building was shot down the ravines resulting in the carriage of a great deal of earth at the sides that had damaged his property.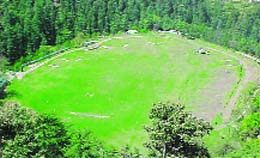 The Annandale Ground
shimla diary
Olympic body wants Annandale Ground back
The State Olympic Association has once again raised the demand for taking back the Annandale Ground back from the Army. The only ground in the state capital suitable for building an international standard stadium was earlier given on a lease to the Army . The lease expired in 1992 but the ground has not been given back to the state.
State to usher in greenhouse revolution
Shimla, January 13
With fluctuating fortunes of the farmers hit hard by vagaries of nature, more and more small and marginal cultivators in the hill state are abandoning agriculture, a trend which the government is trying hard to revert.
Public funds being wasted on political whims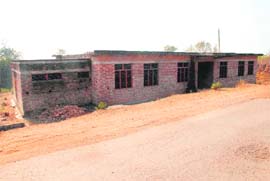 Dharamsala, January 13
The funds distributed by politicians on whims have led to the wastage of public funds in many parts of the state. The Tribune team located two spots where the public funds have been wasted as they were spent on political whims rather than proper planning.
An incomplete hospital building in Ghad Jarot village near Nagrota Surian town in Kangra district. Tribune photo: Amit Sharma
Work for national development, Kalam tells students
Hamirpur, January 13
While the National Institute of Technology (NIT), Hamirpur, is ranked among the few top NITs of the country today, the student community and the faculty has been put to test by former President APJ Abdul Kalam by urging them to become a partner in national development.