Thefts irk Sirsa residents
Sirsa, February 2
A number of incidents of housebreaking and theft in a single night have scared the local residents. Six incidents of housebreaking and burglary were reported on a single night last week, when the miscreants targeted four shops, a dairy farm and a house.

SHO Ajay Sharma holds a meeting with traders in Sirsa.
Traffic chaos
Students, parents face problems
Faridabad, February 2
Students of various schools in the region,especially in Faridabad and Gurgaon, and their parents face difficulties due to traffic congestion near the institutions after teaching hours.


Traffic chaos in front of a school in Gurgaon. Photo: Rajesh Kumar Yadav
Ambala civil hospital gets herbal park
Ambala, February 2
A herbal park has been developed in the civil hospital, Ambala city, to make the environment more hygienic for patients and their relatives. It is the third herbal park in the city. The park has been developed on six acres that had been lying waste behind the hospital building for the past several years and was being used for dumping the hospital garbage.
The newly developed herbal park in the civil hospital in Ambala city.
Surgeons' forum constituted
Kurukshetra, February 2
Surgeons of the district unanimously constituted the District Surgeons Forum (DSF), at their meeting held under the presidentship of civil surgeon Dr Praveen Garg, LNJP hospital here recently.
Vital EC instructions on LS polls
Jhajjar, February 2
With a view to ensuring free and fair Lok Sabha elections, the Election Commission (EC) has recently issued vital instructions to state election commissions.


Kaithal to have highest National Flag
Kaithal, February 2
The historical town will soon have the distinction of having the highest National Flag of the country. The 206-ft high flag will be hoisted on a pole made of high-tension steel which has been installed at Hanuman Vatika, opposite Haryana Roadways bus stand on the national highway-65.



The highest National Flag hoisted in Kaithal on a trial basis. A Tribune photograph
LS polls
Campaign launched to make voters aware
Rewari, February 2
The Sampoorn Kranti Manch (SKM), a voluntary organisation, has launched an awareness campaign to prepare voters for the coming Lok Sabha elections.
Setting an example in selfless service
Rohtak, February 2
For 84-year-old Nihal Singh Malik, age, family, personal interests and physical abilities hardly matter when it comes to social service. Being the caretaker of the only old-age home for women in Rohtak, Malik has put almost 18 years of his life for a social cause and is still continuing the work despite his old age.


An old-age home for women in Rohtak. Photo: Manoj Dhaka
Exhibition on fashion designing
Fatehabad, February 2
"Srijan, the Creation", an exhibition on fashion designing, organised by the Home Science Department of the local Manohar Memorial Postgraduate College recently, attracted a large number of visitors. Fashion designing has been included as an add-on course in the college at the undergraduate level.
Visitors at an exhibition on fashion designing organised at MM PG College in Fatehabad.
Sonepat admin reconstructs flood-hit Bihar village
Sonepat, February 2
Mussehri village in Seharsa district of Bihar, which was hit by floods, is the first village in the country adopted and rehabilitated by the district administration of a different state.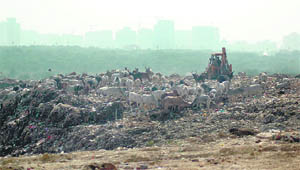 A garbage dump near Chakarpur village on the Gurgaon-Faridabad road in Gurgaon. Tribune photo: Sayeed Ahmed
Sonepat jail inmates to get computer training
Sonepat, February 2
A number of steps have been initiated to make inmates of the Observation Home (Bostel Jail) in Sonepat health conscious and to impart training to make the best use of their period of stay in the jail.
Sampat flays govt for low wheat MSP
Sirsa, February 2
Former state minister and senior Indian National Lok Dal leader Sampat Singh has termed the MSP for wheat announced by the central government as too little and said the commodity was already selling at a better price in the open market.
Concern over skewed sex ratio
Kurukshetra, February 2
After releasing a poetic composition 'Shivaa Mann', written by additional deputy commissioner, Kurukshetra, Sumedha Kataria at a function held at the premises of Gymkhana Club recently, the chief guest, senior journalist and editor, Press Asia International, Manorma Dewan expressed her concern over the disturbing gender ratio that has been dealt with in this book.
Physiotherapy institute organises competitions
Sirsa, February 2
Students prepared a large variety of models, posters and participated in a quiz contest during a wide-range of competitions organised at the Chaudhary Devi Lal Institute of Physiotherapy functioning under the local JCD Vidyapeeth recently.
Railway Colony houses in bad shape
Kalka, February 2
Despite the fact that the Kalka- Shimla rail section has already come up on the World Heritage map , residential houses in Railway Colony here are in bad shape due to the negligent attitude of the authorities.
Medical camp held
Gurgaon, February 2
Columbia Asia Hospital, Palam Vihar, organised a medical camp and a talk for residents of sectors 4 and sector 7 here. It was organised in association with resident welfare associations (RWAs) at the Sector 4 Community Centre.
Letter
Simplify bus pass process
The Haryana Government recently decided that from now onwards,bus passes for students will be made for six months instead of three months.It has been claimed that the decision has been taken in view of difficulties faced by students in getting their passes renewed.