PUNJAB
HARYANA
JAMMU & KASHMIR
HIMACHAL
REGIONAL BRIEFS
NATION
OPINIONS
LETTERS
BUSINESS
SPORTS
WORLD
Friday, May 14, 2010, Chandigarh, India
Updated at 3:00 am (IST)

Centre clears decks for first defence varsity
Will come up at a cost of Rs 300 cr near Gurgaon
New Delhi, May 13
More than 40 years after it was mooted, the Union Cabinet today gave its approval to set up the nation's first defence university near Gurgaon. It would aim at imparting education on strategic challenges to armed forces officials, bureaucrats, academicians, parliamentarians and trainees at military academies.
Nod for ordinance to reconstitute MCI
New Delhi, May 13
In a major move to redeem the lost reputation of Medical Council of India (MCI), whose president Ketan Desai was arrested last month by the CBI for accepting bribe, the Union Cabinet is learnt to have cleared a proposal of the Health Ministry to promulgate an ordinance to reconstitute the Council.


Nation Page: Ketan Desai calls it quits
Gadkari embarrasses BJP on LS vote dig
New Delhi, May 13
BJP president Nitin Gadkari caused major embarrassment to his party by using abusive and derogatory language against SP president Mulayam Singh and RJD chief Lalu Prasad, calling them at a public meeting in Chandigarh yesterday "Dogs licking the feet of Sonia Gandhi."
CAST YOUR VOTE
Should the execution of Ajmal Kasab's death sentence be put on fast track?

EDUCATION
JOBS & CAREERS
HEALTH & FITNESS
SCIENCE & TECHNOLOGY
REAL ESTATE

SPORTS & WELLNESS
| | |
| --- | --- |
| | SP workers burn an effigy of Nitin Gadkari in protest against his derogatory remarks against Mulayam Singh Yadav in Lucknow on Thursday. — PTI |
IT Department hits PCA hard
Chandigarh, May 13
The income tax authorities have attached three bank accounts of the Punjab Cricket Association (PCA) stadium, Mohali, for non-payment of a "demand" of Rs 6.4 crore. The department had issued the demand notices to the PCA for 2002-2003 and 2007-2008 last year after it withdrew tax exemption from charitable trusts and non-government organisations that were indulging in commercial activities.
Muslim women condemn Deoband fatwa
Lucknow, May 13
Muslim women have been offered a mixed bag. If there is a regressive fatwa from Darul Uloom, Deoband declaring working of Muslim women in the government or private jobs as unlawful, there is a progressive decision of the Allahabad High Court prohibiting Muslim men to marry more than once if he can not do justice to all their wives.
UNION BUDGET 2010-11
RAILWAY BUDGET
2010-11
NDA 60 Glorious Years
1857 The First Challenge
E - Revolution 2005:
A Two-day IT conclave
Assembly Elections - 2005
Turbans
Chandigarh is 50
125 Years of The Tribune
India: The Tasks Ahead
India at Sixty
A Tribune Supplement
EARLIER FEATURES
On Sundays
On Saturdays
Tradition can't justify honour killings: NHRC
New Delhi, May 13
The National Human Rights Commission today slammed khap panchayats, saying honour killings violated an individual's right to life and were not an excuse to uphold tradition. In a statement, the commission said that no individual had the right to take the law in his hands. The human rights body has issued notices to public authorities on complaints and media reports that have alleged violence against Hindu couples who marry or want to marry either in the same gotra or outside their castes in Haryana and western UP.
Costlier fruit, veggies push up inflation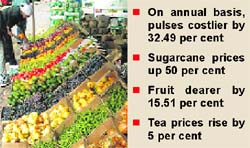 New Delhi, May 13
Costlier vegetables and fruits pushed food inflation higher to 16.44 per cent as of May 1, despite arrival of winter crops in the market. Analysts, however, were of the view that the effect of fresh crop arrivals would be visible only in the second half of this fiscal — by when it would also be clear whether or not the country will get a normal monsoon.
India should not hold talks with Pak: BJP chief
May 13, 2010
Krishna to visit Pak
May 12, 2010
Higher Education Bill hits a bump
May 11, 2010
Chhattisgarh forests death traps: Police
May 10, 2010
BJP wins power tussle
May 9, 2010
Mukesh wins gas battle against Anil in SC
May 8, 2010
Gallows for Kasab
May 7, 2010
No lie detector tests: SC
May 6, 2010
Kasab's head, nothing less, says prosecution
May 5, 2010