PUNJAB
HARYANA
JAMMU & KASHMIR
HIMACHAL
REGIONAL BRIEFS
NATION
OPINIONS
LETTERS
BUSINESS
SPORTS
WORLD
Thursday, August 12, 2010, Chandigarh, India
Updated at 3:00 am (IST)

Indian superbug threatens world
London, August 11


British scientists have found a superbug that is resistant to most antibiotics and are warning that it is widespread in India and could soon appear worldwide. The superbug has so far been identified in 37 people who returned to the UK after undergoing surgery in India or Pakistan.

n What are superbugs?
n Its evolution
n New Delhi-Metallo-1
Ladakh Relief work in disarray
August 11
Frantic messages continued to pour in from tourists and locals stranded in remote areas across Ladakh for the sixth straight day today. While 120-odd persons, including foreign nationals, are still reported stranded, hundreds of foreigners and locals are walking across the valleys, risking their lives to reach their homes and destinations.
One of the foreign tourists rescued by the Army from a village in the interiors of Ladakh. Tribune photo: Anand Sharma


n 60-km walk to shelter
CAST YOUR VOTE
Should Warren Anderson be extradited?

EDUCATION
JOBS & CAREERS
HEALTH & FITNESS
SCIENCE & TECHNOLOGY
REAL ESTATE
SPORTS & WELLNESS
GoM nod for inclusion of caste in census
New Delhi, August 11
GoM headed by Finance Minister Pranab Mukherjee, today endorsed the demand for inclusion of caste in the ongoing census operations. The ministerial panel will recommend to the Union Cabinet that caste head count could be undertaken during the biometric phase of enumeration, which is expected to be undertaken by this year-end or early next year. The biometric phase covers photographing, fingerprinting and iris mapping of citizens for the National Population Register (NPR).
Party to decide whether Sukhbir will be CM: Badal
Chandigarh, August 11


Punjab Chief Minister Parkash Singh Badal wants vendetta politics to end not only in Punjab but also in the whole of the country. "I do not believe in vendetta politics. It is not good," he said in an interview with Raj Chengappa, Editor-in-Chief, The Tribune. Badal maintains that the case against his immediate predecessor, Capt Amarinder Singh, was not registered by the present regime but was initiated during the previous Congress rule in the state.
UNION BUDGET 2010-11
RAILWAY BUDGET
2010-11

NDA 60 Glorious Years
1857 The First Challenge
E - Revolution 2005:
A Two-day IT conclave
Assembly Elections - 2005
Turbans
Chandigarh is 50
125 Years of The Tribune
India: The Tasks Ahead
India at Sixty
A Tribune Supplement
EARLIER FEATURES
On Sundays
On Saturdays
Government admits Bhopal guilt
New Delhi, August 11
The Government, for the first time, has accepted the guilt of Bhopal Gas Tragedy. Replying to a day-long debate on the subject, Home Minister P Chidambaram told Parliament today: "I hope that 25 years later we can all look back with a deep sense of regret and guilt that we did not address the issue as we should have."
Arjun blames Rao for Anderson's exit

PC leaves BJP speechless
Destruction after the deluge
Crops in 2.68 lakh hectares affected n 58 lives lost in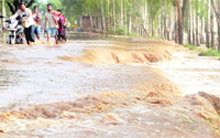 Chandigarh, August 11
In the flash floods that followed the onset of southwest monsoon last month, both Punjab and Haryana suffered heavy losses. Fiftyeight persons died, 134 head of cattle perished, 6546 houses were damaged and crops spread over 2.87 lakh hectares were affected.
ISB gets land at Re 1 an acre at Mohali
Market value of land estimated at Re1.50 cr per acre
Chandigarh, August 11
The cash-strapped Punjab government has subsidised the entry of one of the richest business schools in the world, giving it 70 acres of prime land for a mere Re 1 an acre in Mohali for 99 years. The Indian School of Business (ISB), run by some of the top-notch business houses, is setting up its second campus in the country.
Leh toll may touch 400
August 11, 2010

Ladakh: STILL bruised and battered
August 10, 2010

Scramble for flights at Leh
August 9, 2010

Cloudburst toll 132
August 8, 2010

112 dead in Leh flash floods
August 7, 2010

Clean-up begins, 3 officials suspended
August 6, 2010

PC backs Omar
August 5, 2010

Kalmadi feels the heat
August 4, 2010

No talks without peace, Omar to Valley hardliners
August 3, 2010

Valley bleeds as eight die in fresh clashes; over 60 hurt
August 2, 2010

Flood alert in Haryana again
August 1, 2010