ART & LITERATURE

'ART & SOUL
ENTERTAINMENT

TELEVISION

GARDEN LIFE

NATURE

FOOD TALK

CONSUMERS, BEWARE!

FASHION

GLOBOSCOPE

BRIDGE

ULTA-PULTA
EARLIER FEATURE

TRAVEL

RELATIONSHIPS

DREAM THEME

TIME OFF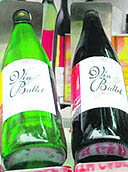 From wine-tasting sessions to the production of indigenous labels, the wine culture in the region is alive and evolving, writes Rajnish Wattas
English wine and beer' is the usual sign in front of liquor stores in small-town India. What the sign denotes is the availability of hard liquors like whiskey, gin, rum, vodka and, of course, beer, but certainly not wine! This is just a small indicator of the level of ignorance that exists regarding the fine beverage called wine. Leaving aside metropolitan towns, the only city indicating the correct differentiation is perhaps Chandigarh; where all liquor stores now read, 'Liquor, Beer and Wine', and they actually do stock wine.
Fruity flavours
The fruit wines of Himachal are finding more and more takers, writes Pratibha Chauhan
RATHER than carrying cheap factory-made Ludhiana Kulu shawls or caps as gifts for family and friends back home, tourists visiting Himachal Pradesh are finding the wide variety of fruit wines — ranging from kiwi to rhododendron to ginger — as a better and more authentic present from the hill state, which has come to be known as the fruit bowl of the country.
Bat sense
Studies have revealed that bats stay on target despite the clutter due to echoes from their sonar pulses
Neuroscientists at Brown University and from the Republic of Georgia have learned how bats can remain on a target despite obstacles in their midst. The key lies in bats' neural response to echoes from their sonar pulses.
Dying tradition
Jangams are a shrinking tribe in North India. The younger members of the community are opting for more lucrative jobs, writes Varinder Singh
THE distinctly colourful and legendary tribe of Shiv Jangams — wandering religious mendicants and kul purohits of Lord Shiva — is fast shrinking. These Shiv bhakts are not only embracing education but are also exploring new vistas and opting for more lucrative fields like medicine, law, engineering, real estate, education and even insurance in a big way.
The call of the green
Pouring rain in Kerala in mid autumn is quite an unexpected phenomenon. A thick shroud of rain covered Kochi, and the planned trip to Munnar next morning looked like a disaster. Munnar in the hills is a three-hour drive from Kochi. The morning dawned with a continued downpour. The road was smooth, the hired car was comfortable and the driver accommodative. But all this was not enough to lift the spirit.
Chandigarh-born artist makes it big
With a list of international clients, Chandigarh-born Gaurav aka Gary Taxali is now looking to explore India, writes Gurmukh Singh
Indian-origin Gary (Gaurav) Taxali, who has made a big impact in the art scene in the US, Canada and Europe, says showcasing his works in India is his ultimate dream. The impact of this Chandigarh-born artist can be gauged from the fact that the New York Times, Rolling Stone, Esquire, Time, Newsweek, Fortune, Reader's Digest, Warner Bros, Paramount Pictures, Sony, MTV, and Coca Cola are among his major clients.
'I have no issues with nudity'
Shoma A. Chatterji chats up Nandana Sen, whose film Rang Rasiya, directed by Ketan Mehta, recently won the Audience Award at the London Indian Film Festival
Nandana Sen has reason to rejoice. Ketan Mehta's Rang Rasiya recently won the Audience Award at the London Indian Film Festival. This Harvard graduate is the younger daughter of Nobel Laureate Amartya Sen and scholar-writer-novelist Nabanita Deb Sen. She takes on films only when she likes the script. She opens out on significant issues in her life, which includes her activism with RAHI and Unicef as one deeply involved with the girl-child.
In the name of honour
Ajai Sinha's thriller Khap deftly handles the controversial issue of love marriages within the same gotra, writes M. L. Dhawan
Social struggles and achievements have provided inspiration for many a film. Social reform movements protesting against the evils of dowry, child marriage and exploitation of women have found their rationale echoed and their arguments expounded in many films made during those times.
Benefits of video games
Video games tend to be associated with laziness, isolation and pre-teens and are rarely known to improve lifestyles, communication and mobility for people over 50. But it turns out this may not be entirely true.
Technology is boon for music: Mahadevan
Singer-composer Shankar Mahadevan feels that technology is a blessing in disguise for the music industry. He says it has made composing, easier and sophisticated. "All my music is technologically driven. We use a lot of technical plug-ins. The amount of our use can be known from the fact that we have started an online music academy. It is a boon for our industry," says Mahadevan.